Back to Market and Insights
How to invest at Davy
In a recent Insight, Gary Connolly, Investment Director at Davy, articulated the case for 'Why to invest now'. This article offers some suggestions as to 'how' you should consider investing and outlines the Davy approach.
Identifying the correct investment strategy for you relies on several factors which are addressed through our comprehensive advice and financial planning process.
The Davy Private Clients' Wealth Allocation Framework is our approach to helping clients identify their needs and ensuring that solutions we put in place deliver on their objectives. This framework focuses on three portfolio types:
core (wants)
liquidity (needs); and
satellite (aspirations).
We believe that the best strategy for a client is the one you can stick with for the longest period and benefit from long-term compounding. Our experience shows that clients stick with strategies when they understand their role in the context of their long-term objectives and when they know that they can afford to withstand periods of market volatility.
The Wealth Allocation Framework allows for the fact that individuals can have multiple needs for their capital and that this can occur across different time horizons and involve different risk profiles. We see the bulk of assets for client's sitting in the core element of the Wealth Allocation Framework, which is explained in more detail below.
What is core wealth?
In simple terms, we view core wealth as the pool of capital that will replace your income in retirement. For those still in employment, our work focuses on identifying the target value that will allow you to meet your needs in retirement. For those clients who are no longer in receipt of a regular income, we focus on spending requirements and ensuring that the funds can meet current needs into the future.
What is a core strategy?
We think of a core strategy as one where you have a high confidence in it meeting your long-term objectives. The conversations about investment strategy focus on objectives as we need to know what we are trying to plan for. This process plans for the appropriate time horizon and risk level for your core strategy.
We believe that if you want a high confidence of outcomes then you require a diversified solution to achieve this objective, as large positions in individual assets can dominate the risk return relationship and lowers the ability to both forecast and manage the outcome of the portfolio.
At Davy, we recognise that investors have individual preferences and constraints that need to be incorporated into their strategies. Therefore, we have built a discretionary investment platform that allows you to access high quality investment solutions, whilst still having these options personalised to meet your needs. These preferences can include ethics, liquidity, cost, transparency, and tax specific issues.
There are various trade-offs associated with each of the approaches to implementation, but we work with you to identify the best approach for your needs and continually to review this over time to ensure it continues to be aligned with your goals.
Managing a core strategy
When we think about the portfolios we build for our clients, we can map the holdings into the quadrant below to reflect the various levers that we have to manage risk and to attempt to add additional return.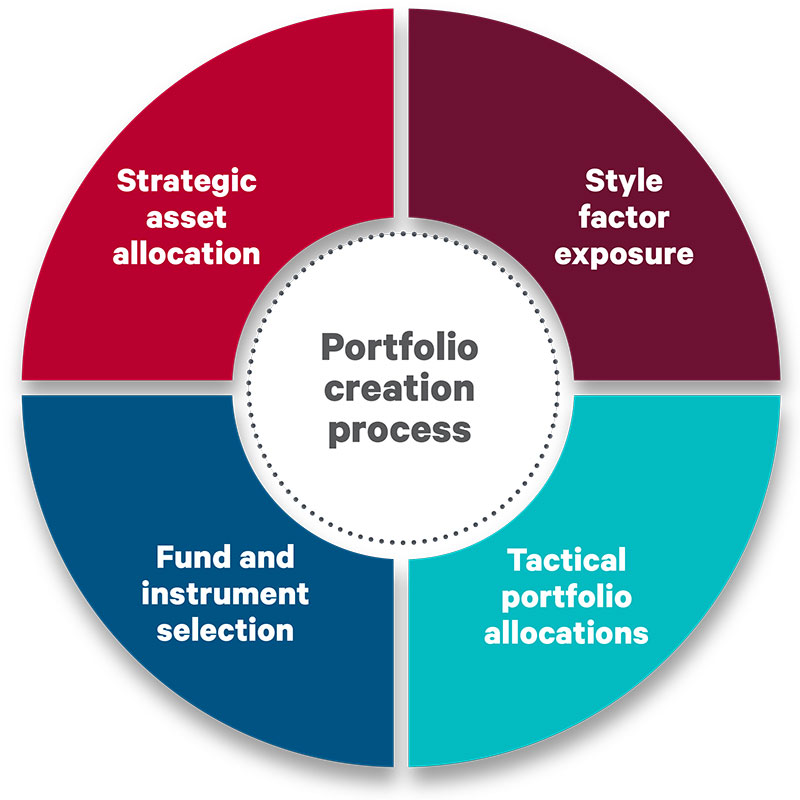 Strategic Asset Allocation – The long-term mix of assets consistent with the target risk level.
Style Factor Bias – The group of characteristics that we look for in the stocks that underlie your portfolio.
Tactical Asset Allocation – How we invest your money with shorter term risks and opportunities in mind.
Instrument Selection – The final part of portfolio construction, the individual instruments that convey our views.
A strong awareness and understanding of risk drivers in our portfolios are central to our portfolio management approach but as outlined in our previous article, risk management is not just focusing on downside moves in markets, it is about ensuring you can capture opportunities in markets when presented to improve your long-term outcome.
If you would like to hear more about our investment process and how Davy's team of experts can help you build an investment strategy to meet your goals, why not request a call with one of our Advisers, or call +353 1 6143346
Speak to an Adviser today
We're ready to help you along your journey
Warning: Past performance is not a reliable guide to future performance. The value of your investment may go down as well as up. You may not get back all of your original investment.
Warning: The information in this article does not purport to be financial advice and does not take into account the investment objectives, knowledge and experience or financial situation of any particular person. You should seek advice in the context of your own personal circumstances prior to making any financial or investment decision from your own adviser.
Other articles you may like

Login to myDavy, the easy way to view your Davy account online
It all begins with a simple, no obligation conversation.
For investors who are comfortable making their own investment decisions.