Back to Market and Insights
European real estate
Private markets investing is not just confined to corporate equity positions. Opportunistic real estate – with its longer investment horizon and ability to find individual, undervalued assets, can complement a private equity investment programme.
While property is a global asset class, in the current environment, European real estate looks interesting. In particular, warehousing and logistics which sits on the frontline of trends in online retail. With the online consumer becoming increasingly accustomed to fast and efficient delivery times, logistics facilities on the edge of urban areas, and mega-sized distribution centres play an essential role.
Figure 1: Retail e-commerce sales worldwide from 2014 to 2023 (in billion U.S dollars)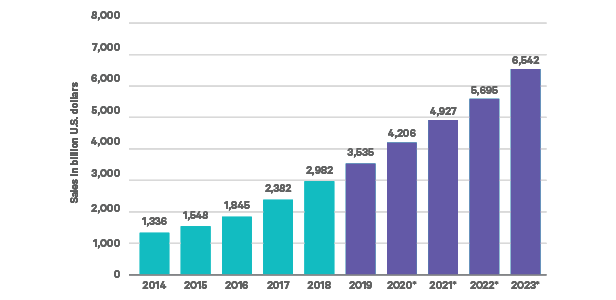 Source: Statistics, 30th August 2019
Growth of e-commerce
The growth rate of global e-commerce has been a phenomenon in recent years and shows no signs of abating. Global retail e-commerce recorded sales of $1,336bn in 2014, growing to $2,382bn in 2017 (see figure 1). Growth was forecasted to continue its upward trend to $2,982bn in 2018 and is set to hit $3,535 in 2019, according to Statistica.
In Europe, as internet penetration and smartphone usage increases, so too has the growth of e-commerce. Internet penetration continues to steadily increase from 78% in 2015 to 83% in 2018 (forecasted)1. In 2013 the volume of e-commerce in Europe was €307bn, this has grown to €534bn in 2017 and expected to be €602bn for 2018. Data for 2017 showed that European e-commerce turnover continued its double-digit growth trend, increasing by 12.75%.

What does all this mean for opportunities in European real estate?
This online trend has a real-world impact. As shoppers move from in store to online, the changing flow of goods through the retail chain is creating demand for real estate, with logistics and distribution facilities in particular set to benefit. According to research from Prologis, each €1bn of additional online sales in Europe will create demand for approximately 71,535 square metres of new warehousing. With vacancy rates for warehousing, logistic and distribution already at tight levels (3% in Frankfurt, 4% in Madrid, 3% in Prague), a further surge in demand will result in many markets struggling to keep pace.
Conversely, fewer shoppers in brick-and-mortar stores has an impact on traditional retail outlets. In the US, almost 6,000 stores closures were announced in 2018 as shopping malls saw declining footfall, and 500 UK high street locations saw a net loss of 2,500 shops in the same year. So, while e-commerce is creating opportunities at one end of the real estate spectrum, investors must be wary of its impact elsewhere.
Download MarketWatch
This article is from our latest edition of MarketWatch.
WARNING: Past performance is not a reliable guide to future performance. The value of your investment may go down as well as up. This product may be affected by changes in currency exchange rates.
WARNING: Forecasts are not a reliable indicator of future performance.
Other articles you may like