Back to Market and Insights
Global healthcare
Having been one of the best performing sectors up until the end of Q3 2015, healthcare has come under pressure over the past year as valuations pushed up toward the sector's long-term average and talk of pricing pressure around the presidential election weighed on the industry.
The outcome of the election this November was the most hotly anticipated event for the outlook of the sector over the short to medium term. It had been widely believed that Hillary Clinton would take the seat in the Oval Office and thus continue her long-term battle with the Healthcare sector, however given the election of Donald Trump, the consensus view is that a Republican government will be far more supportive of the sector as drug pricing is low on the party's agenda.
Outside of the change in sentiment, longer term trends should be a solid foundation for outperformance in the sector. Secular trends such as aging demographics and obesity should support growth in the use of remedies countering non-communicable diseases where drug pricing tends to be higher and demand is more inelastic. Innovation has always driven the sector, and we are seeing continued Food and Drug Administration (FDA) approvals to deal with unmet medical conditions. In addition, Research & Development (R&D) spend has steadily increased. This will hopefully support a prolonged innovation boom.
On a valuation basis the sector is once again looking attractive, on both a relative and absolute basis. As one of the biggest winners of the global equity rally since 2009, multiples had become extended, however recent uncertainty around drug pricing has caused a pullback in prices. We would expect a movement back toward trend as election uncertainty lifts. The sector is at its cheapest level since 2010 on a relative basis, both globally and in the US versus the overall market.
Valuations look attractive
MSCI World Healthcare Relative to MSCI World Forward P/E (Price to Earnings)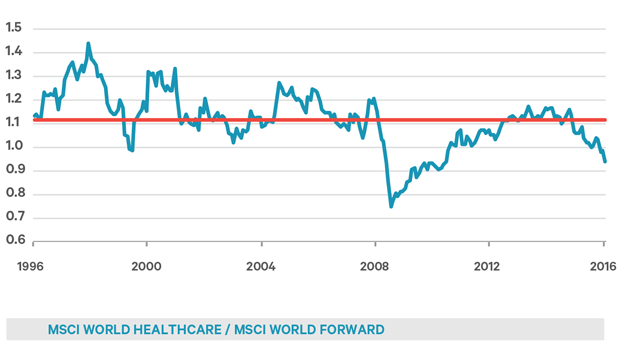 Source: MSCI, IBES, Datastream
Warning: Past performance is not a reliable guide to future performance. The value of your investment may go down as well as up. Returns on investments may increase or decrease as a result of currency fluctuations.
Forecasts are not a reliable indicator of future results.
Other articles you may like