Back to Market and Insights
Cyber security
Innovation has always driven the development of new technologies and in the last number of years the ways in which we use these technologies has changed dramatically.
Now most of our day-to-day internet browsing is done on the move on mobile devices. With this shift we have also seen the development of a number of "Megatrends" including the cloud, mobile technology, big data and the internet of things (IoT).
With these technological advancements, we are increasingly seeing more emphasis being placed upon the importance of security. Adoption of cloud technology, big data analytics and mobile bring cyber security risk. Cyber security in itself is now a megatrend and is expected to grow at an alarming rate in the coming years.
The greatest challenges according to CEO's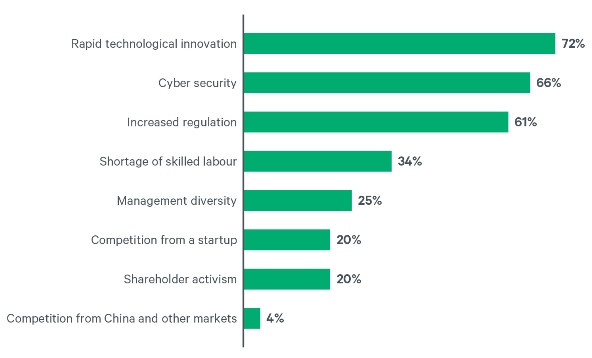 Source: Fortune
Recently data breaches are becoming more prevalent. In May 2017 the "WannaCry" ransomware attack highlighted the importance of a robust cyber security network. These attacks are aimed across a broad spectrum forcing companies and individuals to be vigilant across all areas of their day-to-day lives. Security is becoming a top priority in businesses as the reputational risks are massive, while it is high on the agenda for government officials as highlighted by the recent Presidential executive order in the US on Strengthening the Cyber security of Federal Networks and Critical Infrastructure. It is clear further investment is coming and there are a number of Exchange Traded Funds (ETFs) that provide access to a range of leaders in the space.
Other articles you may like