Back to Market and Insights
And the beat goes on...
The most common question that we get these days is some variation of 'the markets have gone up so far already – shouldn't we take some money off the table?' Apart from the discipline of rebalancing, when market moves push asset allocations away from their target levels, we generally advise against trying to time a risk reduction.
However, it is natural to ask, after a year of unexpectedly strong market returns, with economic growth apparently peaking and the virus still circulating, whether it is worth staying fully invested. Of course, nobody knows in advance the right time to sell, though plenty will point back afterwards and tell us it was obvious. As always, there is a long list of concerns, and maybe the list is longer today than usual. It's well documented that humans have a hard time thinking rationally about extraordinary events. But we also tend to overlook the ordinary. While we fret about all the things that could go wrong, the economy usually rumbles along, earnings grow and markets move on up. Our first principle as investors should be to 'not fight the beat'.
Has the economic recovery peaked?
Yes and no. Apart from the Q3 bounce off the Q2 bottom last year, the second or third quarter of this year will see the fastest growth rate of the recovery. After this, the gains will slow down. So yes, the rate of growth is probably peaking. But that doesn't mean that the recovery is over, just that it's continuing at a slower pace. And even this slower pace will be faster than normal.
With stimulus fading and COVID-19 still lingering, what makes us think that the recovery will continue? Firstly, jobs. Despite rapid drops in the unemployment rate, there are still 5 million fewer people working in the United States now than before the pandemic. At the same time, there are millions of jobs unfilled, and we expect workers to return as support payments end, wages rise, and workplaces become safer. Secondly, we see similar supply issues across industries, with inventories at low levels, and production required to ramp up to meet surging demand.
On the policy side, we see continued support for the economy. COVID-19 is still with us, but the appetite for more growth-destroying lockdowns is minimal.
The UK may be an early mover in raising taxes to plug their enormous budget deficit, but further stimulus is coming in the US, and the EU Recovery Fund is slowly getting going. As for central banks, again, the Bank of England will be the early mover, but the US Federal Reserve will take longer, despite above-target inflation, and the European Central Bank is years away from raising interest rates.
Figure 1: Economic growth forecasts slowing down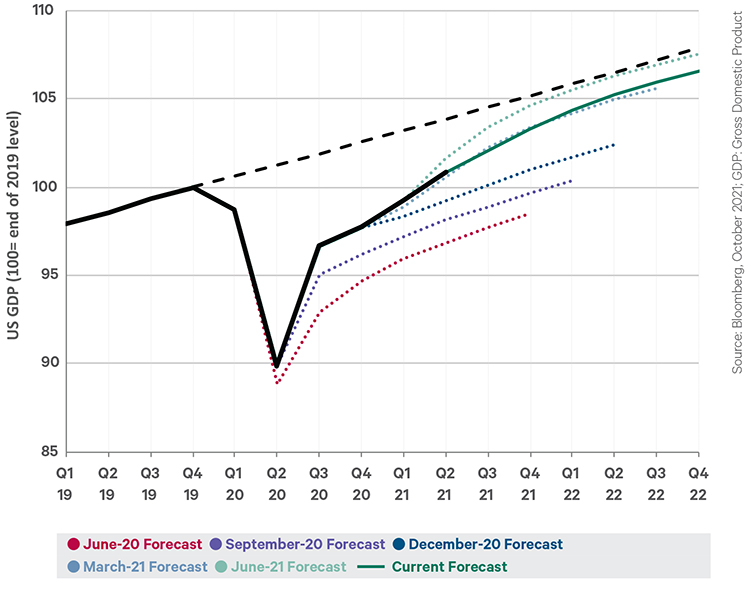 If growth has peaked, does that mean the market has peaked?
Throughout the COVID-19 crisis, we stressed that markets are forward-looking. They are less concerned with what's happening now, and more driven by changes in expectations for the future. With economic growth forecasts moderating, it's not unreasonable to think that stock market gains will slow down too, and we agree. Importantly though, this is not the same as the market peaking. Nervous investors point to the market making record highs in most months of this year, despite the many uncertainties. We're less concerned about this, as the market hits new highs most years, and more concerned with the ratio between the market price and the underlying corporate earnings. At one point last year, when markets had taken off, as the economy was still cratering, this ratio spiked to levels last seen in the late 1990s. But this year's earnings have grown faster than prices, and the ratio is coming down to more reasonable levels.
Figure 2: US index earnings catching up Figure 3: US index price/earnings ratio moderating
with index price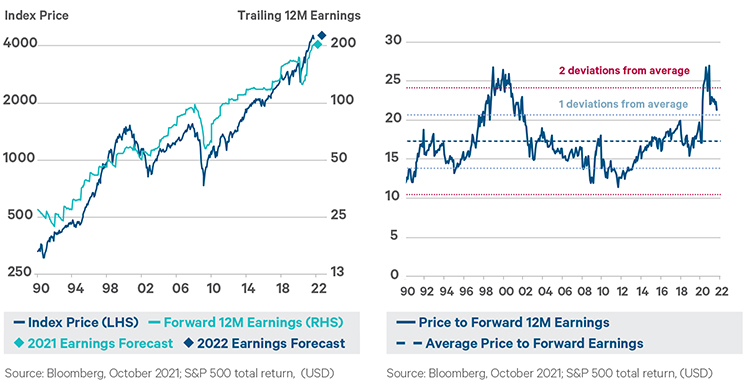 As long as the music is playing, you've got to get up and dance
These were the famous last words of Chuck Prince, CEO of Citigroup in the summer of 2007, before the credit crisis almost took down the global financial system. To be clear, we're not advocating blindly continuing to invest no matter how expensive or risky things are. Even Prince himself recognized this, saying 'When the music stops, in terms of liquidity, things will be complicated'. This is the reason for our 3 cycle model. It's not an attempt to time the economy or market. It's a check on how stretched and vulnerable the financial system is, and how nervous we should be.
Since our last update, the business cycles in the US and Europe have warmed up, with the labour market tightening and inflation surging. Importantly, most major central banks are not minded to cool their economies down too soon with tighter policy.
Stock markets are still running hot in each region, except for the UK, which faces a difficult set of self made challenges. The real structural dangers lurk in the credit cycles. Here we see, that despite super loose borrowing conditions, private credit, outside of corporates, is still not particularly extended in most places.
The exception to all this is China, where the economy is cooling slightly and markets are lukewarm (but not cheap). While the government was cracking down on companies who were out of line with their Common Prosperity objectives, serious cracks appeared in the highly levered property sector. Given the unique nature of China, we expect the government to head off a full-blown credit crisis and political storm, by restructuring and distributing the damage around the system.
Subjective overview of the three cycles from March 2020 to September 2021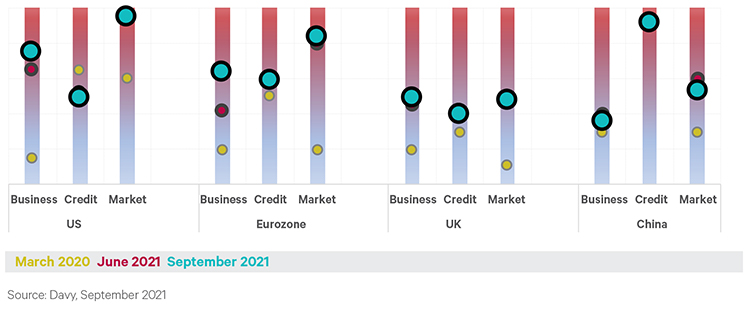 Why not just wait for the dip?
One of the most seductive pieces of investment advice is to hold back until markets take a step down and then buy-in. It sounds reasonable because we know that there will always eventually be another drop in the market. But it's rarely a profitable strategy because the market has usually already gone up by more than it comes down.
The strategy feels even more appealing when, like today, the market is expensive and there are so many worries on the horizon.
And who knows, there may be worse things out there that we haven't considered yet. Imagine going back to 2016* in a time machine and warning investors that their next 5 years would include Brexit, President Trump, global trade wars, the COVID-19 pandemic and an inflation spike. Would they have been right to expect serious drops in the market?
Yes, the US index fell by almost 20% in late 2018 and 34% in early 2020 (S&P 500 total return, in USD terms. But would they have been right to wait for these big dips? No, as the index never dropped below its 2016 level.
A cynic might point out that this is only because the market has gotten more expensive since 2016, and they would be partially right, and future returns will likely be lower. The key point is; adding risk on market dips can boost returns, but decreasing your risk in anticipation of a dip is unlikely to work in your favour. Of course, this means that your portfolio will take a hit when a dip does eventually happen.
The best defence against this is having enough liquidity, but not more than enough, already set aside to see you through the down period. In other words, a robust financial plan.
* Thanks to Gary Connolly for this idea.
Download MarketWatch
This article is from our October 2021 edition of MarketWatch.
WARNING: Forecasts are not a reliable indicator of future results.
Warning: Past performance is not a reliable guide to future performance. The value of your investment may go down as well as up. These products may be effected by changes in currency exchange rates.
Other articles you may like