Back to Market and Insights
From reflation to inflation - Are we there already?
As the Covid crisis unfolded last year, there were prophecies of both boom and doom ahead. A year later, both sides claim to have been proven right. Optimists point at the economic recovery, the jobs growth, and the surge in corporate profits. Pessimists point at the economic uncertainty, the spike in inflation and the sky-high valuations of asset prices. Meanwhile the markets shrug and move on. Which side is right, and what is an investor to do?
Is the economy still getting better?
Although it's slower moving than most indicators, the labour market is often the best barometer of an economy. Last year, unemployment hit post-war highs in the United States, and millions of Europeans went on wage replacement schemes. Since then, US unemployment has dropped from over 14% to below 6%, a remarkable turnaround. But recently the growth in jobs has slowed, with companies reporting that they can't find staff, and Republicans claiming that stimulus cheques have discouraged people from returning to work. The reality is that while growth and jobs are bouncing back, even the leading economies are still far from normal. Covid has kept many US schools closed and unsettled workers in the services sector. We expect these extraordinary actors, and unemployment benefits, to fade by the end of the summer and the job market to continue normalising. We also see a similar but slower normalisation in Europe and the UK. Importantly, these factors should not slow growth this year, which is still forecast to hit multi-decade highs.
Inflation – a temporary spike or the new normal?
The biggest difference between this crisis and previous ones has been the speed and size of central bank and government support. The Covid crisis left a giant hole in the economy, but the stimulus has been several times larger, stoking fears that this extra money will spill out and cause inflation. Also it isn't realistic to shut down an economy, then turn it on again and expect supply to be ready to meet demand. So perhaps we shouldn't be surprised to see a spike in prices.
Figure 1: Commodity prices Figure 2: CPI & Sector prices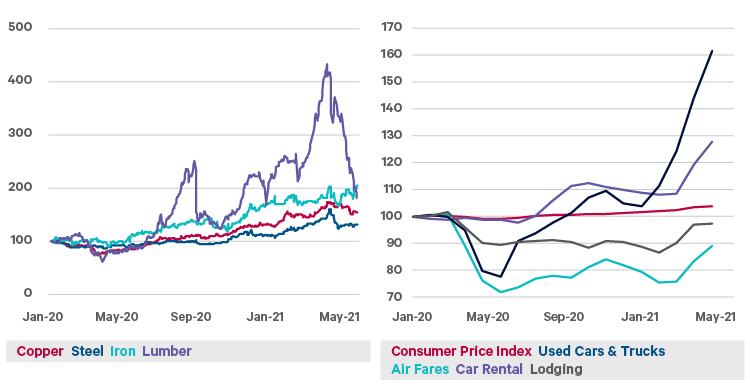 Source: Bloomberg as at 30th June 2021:USD
What type of inflation are we seeing and what makes us think it's temporary? First we saw a jump in raw material prices, like industrial metals, as the Chinese ramped up production, and lumber as the US construction industry picked up. These have both softened in recent months. Then most of the recent surge in US inflation came from services that were shut down last year, like hotels, air travel, and especially rental and used cars.
The strongest evidence that this sudden inflation is not a new normal is that it has not appeared in expectations or wage growth. If market and consumer expectations do start to bake in a higher level of inflation, and this is reflected in faster wage growth, then inflation may have taken root. Most important for markets though is that central banks do not see any need to tighten their policies until the job numbers are much stronger.
Can earnings growth justify market valuations?
Given that markets look forward, it's normal for prices to recover from a crash before earnings do, pushing up price / earnings ratios for a while. However, looking at longer term or cyclically-adjusted earnings, these valuation ratios are already unusually high for so early in an economic cycle. Pessimists are right to point out that we need very strong earnings growth to justify current valuations, and even then we shouldn't expect valuations to drive returns further from here.
Figure 3: Earnings 1990-2020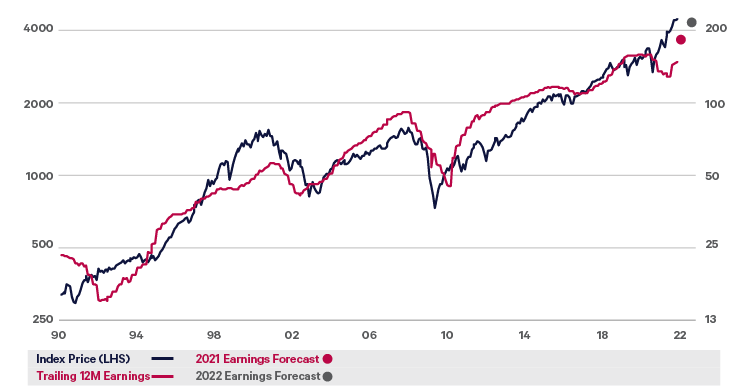 Source: Bloomberg as at 30th June 2021:USD; LHS: S&P 500. Index price; RHS: S&P 500 Index Earnings
The good news is that earnings have indeed bounced back well ahead of expectations. In fact, as the Q1 reports revealed in May, they came in over 20% above forecasts for both US and European stocks. It was interesting to note that companies that beat forecasts were rewarded with less of a price increase than usual, while companies that disappointed were punished more than usual, indicating that sentiment must have been even higher than the forecasts. For the remainder of 2021, we expect earnings to continue their recovery. Forecasts for the year are for over 35% growth, which means that we can have valuation ratios decline and still have strong returns. The challenge will come in 2022-23 when earnings growth slows down, and markets get more worried about central bank tightening.
Figure 4: Economic Growth 1900-2020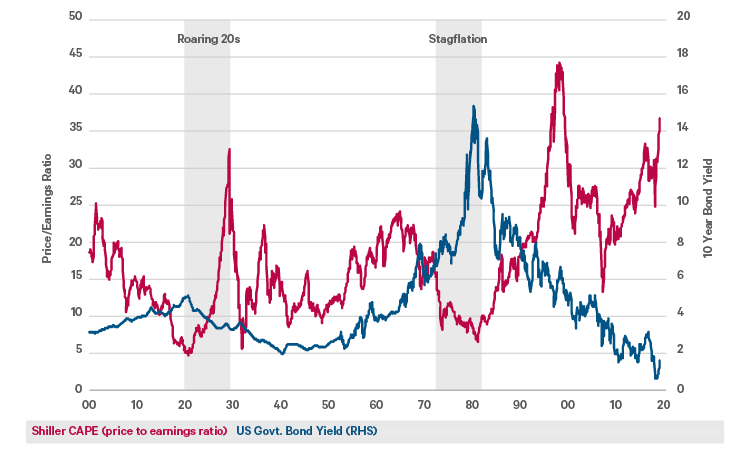 Source: Bloomberg as at 30th June 2021:USD; CAPE: Cyclically Adjusted PE Ratio
Where to next – the roaring 20s or the soggy 70s?
The case for the "roaring 20s" is not just blind optimism. We've come out of a global pandemic, bursting with new technologies to ignite growth for the new decade, and we have the most active policy support since the war. However, while the original roaring 20s were powered by automobiles and electricity, they also started with higher bond yields and much lower equity valuations. With asset prices already now at late-cycle levels, it's not realistic to expect such high investment returns for the current decade, even if we do get a boom in growth and innovation.
Taking the negative view, there is the case that too much debt will slow growth while too much money supply pushes up inflation, leading to a "stagflation" scenario (stagnation plus inflation) like the 1970s. It is true that government and corporate debt levels are unusually high, but the cost of this mostly fixed-rate debt is unusually low, and shouldn't impede growth. And while the recent 5% spike in US consumer prices was a surprise, this doesn't mean that we're returning to the double digit inflation of the 1970s and early 1980s.
We believe that we're in for a decade of lower-than usual asset returns and a wider range of inflation outcomes than we've become used to. Not a disaster, but not very exciting either. We note that even if inflation doesn't run above target, cash and bonds will still lag behind and lose their purchasing power. There are no miracle cures for lower returns, despite what crypto-enthusiasts might tell you. Investors who aim to protect or grow their wealth will need to take on more risk than in the past, either in volatile stock markets, or in illiquid private assets, both of which are expensive. The best assets to cope with this environment are time and patience.
Download MarketWatch
This article is from our July 2021 edition of MarketWatch.
WARNING: Forecasts are not a reliable indicator of future results.
Warning: Past performance is not a reliable guide to future performance. The value of your investment may go down as well as up. These products may be effected by changes in currency exchange rates.
Other articles you may like