Back to Market and Insights
The role of alternative investments
For many decades, investors have diversified portfolios by holding two asset classes, equities and bonds.For the most part, these two types of investments behave differently, for example; bonds traditionally offer some protection when there is an equity sell-off. However, recently investors have started looking at a third asset class, alternative investments, as another tool for driving portfolio returns and increasing diversification.
Alternative investments' return profile is uncorrelated to traditional equity and fixed income assets. This means they don't usually move in the same direction at the same time. As we are approaching the late stages of the economic cycle, when volatility increases, the benefit of these uncorrelated returns should be more visible than ever.
What is an alternative investment?
Alternative investment is an umbrella term for any investment that does not fall into the traditional equity or bond category. It includes relatively easy to understand assets such as commodities (gold, oil, aluminium etc.) and real assets, such as property and infrastructure. It also covers more complex unconventional strategies such as hedge funds (or absolute return funds) and private equity funds.
A source of uncorrelated returns
In the same way that it would be risky to have a portfolio comprised of just a few stocks, it is risky to have a portfolio which is only made up of a few return drivers. A properly constructed alternative investment portfolio which encompasses different investments and strategies that are uncorrelated to each other, adds a third leg to your portfolio which is less responsive to global equity market fluctuations. The performance of gold, for example, should behave differently to a commercial real estate asset or a global macro hedge fund. This diversification of returns is important in delivering a portfolio return that is smoother and less volatile in the medium to long term.
Enhanced long-term return
Historically alternative assets have protected portfolios from large declines during times of equity market stress. When equity markets fall significantly we expect alternative investment portfolios to protect against these losses. In the long term, avoiding these pitfalls in performance should increase the overall returns.
Table 1: Alternatives provide access to niche investment strategies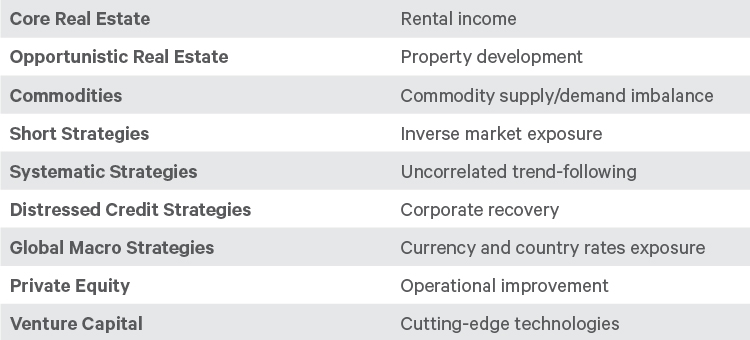 Source: Davy
However, investing in alternative assets does not mean that you are 'giving up' equity market returns. The expected return from each investment or strategy within the asset class may differ with some holdings enhancing your performance while others protect your investment in a downturn.
For example, long-short hedge funds have a greater set of tools available to them, most notably the ability to short a stock (profit from a share price fall), than long-only funds. These tools offer less constrained mandates and a much wider range of potential profit generation. Depending on the strategy, this may result in a higher long-term return than equity markets.
At the other end of the spectrum, low volatility, absolute return funds aim to provide a cash plus return to investors. These funds may have a lower expected return than traditional equity or fixed income funds, but should perform better when traditional markets are challenging.
Investing has become more complex over time, reflecting a higher volatility environment. Adding alternative investments to a portfolio should lower risk but also enhance returns in the long term. However, like most asset classes, investing in alternatives has its risks. It is a complex asset class and can be difficult to understand. In addition, some of the strategies can be illiquid and have high fees. However, we believe that overall the investing in the asset class can be beneficial to a multi-asset portfolio. While it is important to allocate to alternative assets across all market cycles, we believe they have a crucial role to play at this late stage of the market cycle.
Figure 1: Asset classes – Expected long-term annualised returns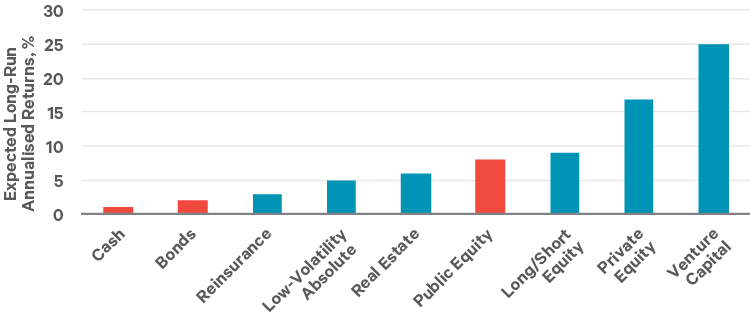 Source: Davy estimates
Past performance is not a reliable guide to future performance. The value of investments and of any income derived from them may go down as well as up. You may not get back all of your original investment. Returns on investments may increase or decrease as a result of currency fluctuations.
Forecasts are not a reliable indicator of future performance
Other articles you may like