Back to Market and Insights
The long goodbye
Having seen Boris Johnson 'pause' Brexit in favour of a December election, we now see two paths forward. First, if the Conservatives win a majority, Brexit will almost certainly take place before the January 31st deadline. However, the next potential 'cliff-edge' will be on 31st December 2020 when the transition period ends. We believe the transition period will be extended to 2022, an option written into the Withdrawal Agreement (WA). One year simply isn't enough time to conclude an EU/UK trade agreement. Ideally, the extension could happen quickly, but it may take time for the Conservative Party to reconcile itself to this reality. Post Brexit, UK business groups will be pitted against radical European Research Group (ERG) Conservatives still dreaming of a 'global trading Britain' and divergence with the EU single market. While close alignment with the EU will probably eventually win out, the lingering uncertainty through lengthy trade negotiations, lasting for several years, will continue to provide a drag on UK business investment.
The second scenario is that the Conservatives will fail to win a majority. With no coalition partner for the Tories, instead a Labour/Liberal Democrats/Scottish National Party government may be formed, probably leading to a second referendum. Should a second referendum still show the UK intent on leaving, the EU would extend Article 50 to allow time to implement Boris Johnson's deal, perhaps with some bells and whistles attached, e.g. a commitment that the UK would join 'a customs union'. This week, Michel Barnier refused to rule out fresh negotiations if a new UK government is formed. We see a negligible likelihood of a 'no-deal' Brexit either in the short or medium term. That said, having seen Irish asset prices rally as the fear of a 'no-deal' Brexit has receded, there are still many hoops to jump through before any clarity is established on the UK's long-term trading relationship with the EU, and the uncertainty of the election could hinder further gains.
EU/UK negotiations have panned out broadly as expected
Comparing the Brexit negotiations against the likely schedule we set out in August shows that events have panned out broadly as we expected. Boris Johnson's threat of a 'no-deal' Brexit was undermined by the Benn Act, passed in early September. Boris Johnson may have refused to sign the letter applying for an Article 50 extension, but ultimately, he couldn't deliver Brexit on 31st October, with the UK Parliament acting to rule out a 'no-deal' Brexit as anticipated.
The surprise was that Johnson was still able to utilise the impetus from the 31st October deadline to secure his Withdrawal Agreement with the EU and push it through to a second reading in Parliament. The Northern Ireland solution is a slimmed-down version of Theresa May's original 'customs partnership' – first mooted by her in the 'Chequers proposals' in July 2018 – but now applied only to Northern Ireland as a 'front stop', which will be implemented once trade talks are concluded, rather than a 'backstop' insurance mechanism should trade talks fail.
The Northern Ireland trading arrangements will create significant red-tape costs for businesses that will have to cope with the possibility that Stormont could, at regular four-year intervals, suddenly decide to end the customs partnership arrangement. In addition, Johnson has lost the support of the Democratic Unionist Party (DUP). Nonetheless, the puzzle of how to maintain an 'open border' with the Republic has been solved, if in an awkward manner, while still allowing the option for the UK to leave the EU customs union. Of course, the closer the final EU/UK trading relationship is, e.g. a customs union, the more the wrinkles in the new Northern Ireland arrangement will be smoothed over.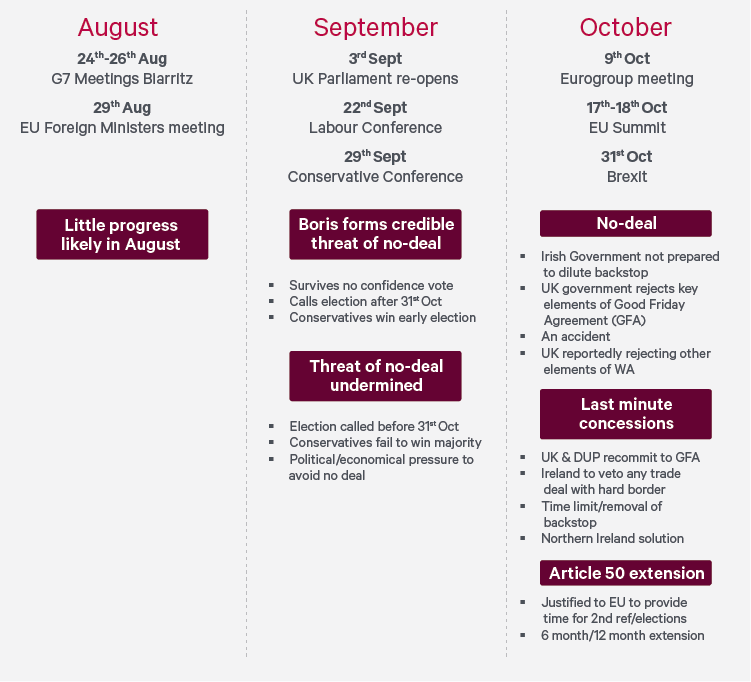 Where next?
Brexit now depends on the outcome of the December 12th election. Should the Conservative Party fail to win a majority, it will have no likely coalition partner. Instead, Labour, the Liberal Democrats and the Scottish Nationalist Party could try to form a government – probably leading to a second referendum. We expect the EU would be willing to grant yet another Article 50 extension to facilitate a second referendum. From the EU's point of view, the true deadline for Brexit is probably around June 2020, when the UK's continued presence will interfere with the new Multiannual Financial Framework (MFF) for 2021-2027. If the referendum was lost, the EU would entertain some nominal renegotiation with the new UK government centered on the political declaration on the future relationship (e.g. a commitment for the UK to stay in the EU customs union), but the substance of the Northern Ireland arrangements in Boris Johnson's Withdrawal Bill would be little changed. This scenario would also be associated with the political uncertainty of such a rainbow coalition, potentially also involving a referendum on Scottish independence and whether Jeremy Corbyn could press ahead with many of his radical left-wing policies – probably hurting sterling.
Of course, the Conservative Party enjoys a considerable lead in UK opinion polls. Electoral Calculus currently calculates that, based on opinion polls through Oct 1st-25th, the Conservatives are on 35%, ahead of Labour on 25%, which would give them a 76-seat majority. However, it is worth bearing in mind that Theresa May began her 2017 campaign with a similar lead. Should Boris Johnson win a majority, he will surely push through the Withdrawal Bill by the January 31st deadline, ushering the UK into the 'transition period'. For now, this seems the more likely scenario.
Once Brexit is secured, attention will soon turn to the fresh 31st December 2020 deadline when the transition period will expire, threatening a new 'cliff edge'. This clearly isn't enough time to conclude a trade agreement with the EU. However, the Withdrawal Agreement allows the UK to extend the transition period to December 2022, and the Brexit Secretary has already said that the UK may have to exercise this option. The Irish Times reported this week that in an interview with several European newspapers, Michel Barnier "accepts that the likely transition period for the UK after it leaves on 31st January , at 12 to 13 months, is unlikely to be enough to complete the elaborate future relationship talks". Ideally, the UK government would move quickly after Brexit to reassure business that there is no likelihood of 'no-deal' on 1st January 2021 – but it may take time to do so – meaning UK businesses will still face an uncertain future. That said, a large Conservative majority would make Boris Johnson less reliant on the radical ERG, providing him more political space for compromise. On that point, it was reported that Johnson had been prepared to offer the concession of an automatic extension of the transition period to December 2022 to negate any possibility of a 'no-deal' outcome in an effort to convince rebel Conservative and Labour MPs considering voting in favour of his Withdrawal Agreement on October 22nd. However, because the 'programme motion' was lost, and Brexit paused, we do not know if Johnson would have followed through with such an amendment to his bill.
Back to the future
Michel Barnier has recently been appointed head of a 'UK task force' that will oversee trade talks. Ireland's EU Commissioner for Trade, Phil Hogan, will also play a prominent role. Hopefully, once Brexit is secured, the political hyperbole in the UK will die down – allowing the trade talks to proceed in a business-like fashion. If so, the ambition of most British business groups for close regulatory alignment between the EU and UK will be realised. However, it will still take time for Conservative ERG members to give up their dream of a 'global trading Britain', concluding extensive trade deals with the United States and the 'Anglosphere'. We expect there will be little public support for the economic disruption that diverging from the EU single market would entail, which will ultimately determine Boris Johnson's negotiating position. Sector-by-sector, as trade negotiations progress, the UK will almost certainly end up aligning with the EU. In the meantime, the uncertainty of the UK's future trading position with the EU will continue to provide a significant drag on business investment.
Of course, the 'political declaration' in the Withdrawal Agreement commits the EU and UK to pursue a zero tariff, zero quota trade agreement, with the UK signing up to level playing field provisions – suggesting a close EU/UK trading relationship. However, the political declaration is not legally binding. This no doubt allowed Johnson to secure support from the ERG but also provided some limited political cover for rebel Labour MPs voting for Johnson's deal on 22nd October, concerned about the potential dilution of regulatory and environmental standards by a Conservative government after Brexit. Subsequent leaks of a government memo to the Financial Times and the BBC also confirmed that the UK government sees little in the Withdrawal Agreement that will prevent divergence from the EU single market.
For now, the Conservative Party is still set on a 'Canada dry'-type deal but will eventually have to reconcile itself to the price for any regulatory divergence. This week, Michel Barnier said "The trade accord we hope to discuss will be based on zero tariffs, zero quotas and zero dumping. But access to our markets will be proportionate to the engagements made to our common rule book". Clearly, the UK has not been given a cast iron guarantee of zero tariff trade. It's also worth remembering Angela Merkel's comments on October 13th at the Elysee Palace that the EU will see the UK as a competitor post Brexit.
Outlook for Ireland and the UK
This week, the UK National Institute for Economic and Social Research (NIESR) set out its projections for the UK economy, with which we would broadly concur. Its base case is that "a prolonged period of political and economic uncertainty continues while the UK and EU negotiate their future relationship…an extended transition period while the future trade agreement is negotiated'. Hence, NIESR expects sub-par UK GDP growth to continue, 1.4% in 2020 and 1.5% in 2021, "driven by household and government consumption. Business investment remains weak". NIESR expects a very modest recovery in aggregate fixed investment of 1.3% in 2020 and 2.1% in 2021.
Our current forecast is for Irish Gross Domestic Product (GDP) growth of 5.0% in 2019 and 4.0% in 2020. We expect we will soon have to revise up these projections given the remarkable resilience of Irish export performance, mainly reflecting the buoyant pharmaceutical and Information and Communications Technology (ICT) sectors. In contrast to the UK, Irish investment spending has remained strong, reflecting inward foreign direct investment. In contrast, bank lending to the Small and Medium Enterprise (SME) sector has been weak, with survey evidence pointing to Brexit uncertainty leading small companies to delay expansion plans. Brexit also appears to have taken a toll on the housing market, leading to depressed house prices, particularly at the top end. It is in these areas – bank lending, the housing market and SME activity – that some rebound may be likely as the threat of a 'no-deal' Brexit has receded. However, Irish companies will have to cope with lingering uncertainty on future trade relations with the UK.
Investment Strategy review
By Irina Bevza and Stephen Grissing
Equities – trended lower week-to-date, while small caps lagged
Anticipation of an election points to uncertainty ahead. Even though the no-deal Brexit is off-the table in the short or medium term there is a risk that Johnson will not get a majority – this is a worry voiced by international investors. As a result, domestic proxies, FTSE 250 and FTSE Smallcaps, broadly went nowhere/underperformed slightly this week. Uncertainty impacted large caps too, their returns were slightly negative this week.
Sterling – supported by 'flextension' and Farage comments
Intra-day sterling volatility continued this week, at the time of writing, sterling was trading only marginally lower than the five-month highs it reached last week. The 'flextension' agreed to by the EU until 31 January goes a step further to remove a no-deal outcome, the probability of such an outcome occurring has been increasingly priced out of the value of sterling in recent weeks. Another boost for the currency came on the back of reports that Nigel Farage's Brexit party was considering pulling out of a number of seats in December's election. 1
This week also marks the start of a sterling tug of war that will last until the general election takes place. On the supportive side - the avoidance of a 'no-deal' Brexit and the hope of Brexit finally getting done – while lining up in opposition is the prospect of a swing in the polls resulting in Jeremy Corbyn being able to press ahead with his left-wing policies or a hung parliament. The current level of sterling is based on polls that suggest the Conservatives have a 10+ point lead over nearest challenger Labour. As Theresa May is aware from the 2017 election, large swings can occur from the date an election is called to the actual election date. Labour gained 11 points during the election campaign in 2017.
UK government bonds – moving in sync with global peers
UK 10-year bonds sold off on Monday, rising 4 basis points to 0.72% on the announcement that EU leaders had agreed in principal to extend Brexit until January 31. The 10-year yield fell to 63bp on Thursday morning – in sync with moves of US and EU counterparts on the market's assumption that the Federal Reserve's pause in policy easing may be short lived and reports that China's doubts are growing over the possibility of a long-term trade deal. Options market remain largely unchanged over the past two weeks, pricing in a 41% probability that the Monetary Policy Committee (MPC) will commence easing policy and cut rates by June 2020.
A number of issues may cap how high gilt yields will travel into next year. For one, if a Brexit deal is delivered, attention will instantly turn to the uncertainty of the negotiation phase of the Brexit process. These uncertainties may well hinder the anticipated ramping up of business investment that has been put on hold until now. Looking more globally, if the softer economic backdrop remains in place, this will suppress global government bond yields which have become increasingly correlated during 2019.
Warning: Past performance is not a reliable guide to future performance. The value of investments may go down as well as up. Returns on investments may increase or decrease as a result of currency fluctuations. Forecasts are not a reliable guide to future performance.
Other articles you may like