Back to Market and Insights
COP15 & Landmark Global Biodiversity Agreement - Key Takeaways for Business
COP15 has made a global agreement to protect 30% of the world's lands, seas, coasts and inland waters by 2030. The aim is to halt biodiversity loss and the decline of nature. The measures agreed include a pledge to scale up the flow of finance to developing nations to care for nature and reduce harmful subsidies. There are also targets to halve global food waste, excess nutrients that give rise to pollution and risks posed by pesticides, by the end of the decade. There are significant implications for business, value chains and finance to take action and be transparent on reporting progress. Our key takeaways are outlined below.
"Biodiversity loss is bad for business. We rely on nature for natural resources that we use in the economy, and more than half of the global GDP depends on nature and its services.  Depleting nature means bankrupting business."
-Virginijus Sinkevičius, EU Commissioner for Environment, Oceans and Fisheries
Introduction
COP15 is the 15th international meeting of the Parties to the Convention on Biological Diversity (CBD) which took place from 7th- 19th December 2022 in Montreal Canada. The core objective of the conference was to agree a 'Paris-style Agreement' for nature, ensuring that life on planet Earth continues to benefit present and future generations. Countries aimed to reach a global agreement for the protection of nature and the planet, with long-term goals for 2050 and milestones by 2030 in the launch of a Global Biodiversity Framework (GBF).
Following extensive negotiations, an agreement was made and the Global Biodiversity Framework (GBF) with a total of 23 targets for 2030 was adopted by the 196 countries. Key points of the GBF are outlined below:
Effective conservation of at least 30% of the world's lands and waters.

Restoration completed or underway on at least 30% of degraded terrestrial and aquatic ecosystems.

Reduce to near zero the loss of areas of high biodiversity importance, including ecosystems of high ecological integrity.

Reduce by half both excess nutrients and the overall risk posed by pesticides and highly hazardous chemicals.

Progressively phase out or reform by 2030 subsidies that harm biodiversity by at least US$500 billion per year, while scaling up positive incentives for biodiversity's conservation and sustainable use.

Mobilise by 2030 at least US$200 billion/year in domestic and international biodiversity funding from all sources – public and private.

Raise international financial flows from developed to developing countries, in particular least developed countries, small island developing states, and countries with economies in transition, to at least US$20 billion per year by 2025 and to at least US$30 billion per year by 2030.

Prevent the introduction of priority invasive alien species and reduce by at least half the introduction and establishment of other known or potential invasive alien species, and eradicate or control invasive alien species on islands and other priority sites.

Cut global food waste in half and significantly reduce overconsumption and waste generation.

Require large and transnational companies and financial institutions to monitor, assess, and transparently disclose their risks, dependencies and impacts on biodiversity through their operations, supply and value chains, and portfolios.
Source: UN Biodiversity Conference[2]
The fact that these ambitious objectives have been agreed and are backed by governments, is a major step towards progress but some scepticism surrounds the voluntary nature of implementation of the objectives. Some countries also criticised the funding available, especially for less developed economies.
Background for Business
Today, one third of all land is degraded[3], making it harder to feed growing populations. One million species are at risk of extinction[4]. As the connection between climate crises and biodiversity loss becomes more apparent, companies are expected to act on biodiversity and establish ambitious linked goals. The loss of nature and biodiversity comes with a steep human cost, including job losses, hunger, disease and deaths, and has a predicted economic cost of US$3 trillion in annual losses by 2030 in ecosystem degradation[5].
Since the global economy heavily relies on nature to provide the ecosystem services that enable success, businesses have a vested interest in helping nature thrive to ensure long-term security. Businesses should be ready to develop a biodiversity strategy that is effective and aligned with evolving frameworks and global objectives.
Much like 1.5°Celsius aligned science-based targets for climate change, following the agreement on the GBF, there will be expectations for companies to set targets to align with the GBF.
Finance and Biodiversity Day
COP15 welcomed the first dedicated 'Finance Day' highlighting the importance that the international community is now placing on this topic from an investment standards, disclosure and reporting perspective. It is estimated that over US$384 billion in investment will be required annually by 2025 to protect nature, however the UN state that the world is failing to meet this with current levels at less than half of that[6]. As President von der Leyen announced in her State of the Union address, the EU is doubling its global biodiversity financing to US€7 billion over the period 2021-2027, especially for the most vulnerable countries[7]. She called on other donors to match the effort resulting in several member states such as Germany, France and Spain also doubling their financial support. As a priority, existing resources must be used more effectively, which includes coordinating financial flows with nature-positive objectives and addressing harmful subsidies. The EU backs the global business coalition Business for Nature ,with over 330 business and financial institutions, calling for mandatory reporting.
The EU's recently released European Financial Reporting Advisory Group (EFRAG) Biodiversity and ecosystems standard (ESRS E4)[8] outlines the requirements for detailed corporate reporting on biodiversity, designed to help companies understand their impacts and align their business operations with biodiversity protection. This is part of the requirements under the EU Corporate Sustainability Reporting Directive (CSRD) phasing in mandatory reporting across ESG topics from 2024. Under the GBF, corporations and financial institutions are required to report on biodiversity actions.
Nature-based solutions are among the cheapest and most effective climate change mitigation measures[9]. Biodiversity or nature credits are also seen as having the potential to bridge the gap on investment needed. The Biodiversity Credit Alliance and World Economic Forum (WEF) met aligned to the COP15 on how to implement a voluntary market.
Reporting
The Taskforce on Nature-related Financial Disclosures (TNFD) is developing a reporting and risk management framework that aims to support a shift towards global financial flows being directed at nature-positive outcomes, with a full version of the framework expected next year[10]. From 2023, businesses will be able to set their own science-based goals for nature through the Science Based Targets Network. The World Benchmarking Alliance (WBA) has also developed a nature benchmark approach that 'will rank companies on their efforts to protect our environment and its biodiversity'[11]. In 2022 CDP started collecting data on biodiversity for the first time and found that almost 50% companies have considered biodiversity in their strategies, making commitments and putting governance mechanisms in place (however 55% are failing to take action to progress their current commitments)[12].
At COP15 the ISSB (International Sustainability Standards Board) reiterated that a company's capacity to provide value to its investors is intrinsically related to the stakeholders it engages and serves, the society it operates in, and the natural resources it depends on[13]. Its plans to work on natural ecosystems and just transition will be consistent with its approach of building upon the work of market-led initiatives grounded in current-best practice and thinking. The ISSB will consider the work of the TNFD and other existing nature-related standards and disclosures where they relate to the information needs of investors. By referring to this articulation of the value creation process, a company will be in a better position to explain to its investors how it is working sustainably —addressing the impacts, risks, and opportunities that can affect its performance and prospects—to ultimately deliver financial value for investors.
Leading companies are already focusing on disclosure and reporting and are making ambitious commitments and taking decisive action on nature. For example, Aviva launched their inaugural standalone biodiversity report during their participation at COP15 finance day[14].
Natural capital accounting
A key difficulty for businesses and countries alike lies in the valuation of biodiversity. Recognising the link between nature and economic activity, a growing volume of countries including the EU and the UK are beginning to look beyond GDP as an indicator by tasking their national statistics offices with incorporating biodiversity in natural capital accounts into their national accounts[15]. For example, Ireland aligns with the UN System of Environmental Economic Accounting (SEEA) integrating this into the System of National Accounts (SNA) and Gross Domestic Product contributions. This has a knock-on impact and expectation for businesses, with mandatory assessment and disclosure being called for[16]. On the first day of COP15, the Align project which supports the work of the EU Business @ Biodiversity Platform, published recommendations bringing more clarity on what elements of biodiversity to measure and how to assess impacts and dependencies on biodiversity in a business context. The aim is to support wider reporting, disclosure and target setting initiatives and standards and drive the harmonisation of natural capital accounting within Europe and beyond.
Conclusion
An awareness among the general public of the importance of biodiversity action is growing. This was demonstrated by the Irish Citizens' Assembly of 100 citizens recommending just weeks before COP15 that an Irish referendum should be held to factor biodiversity protection into the National Constitution[17]. This demonstrates the need for action by business, government and citizens to act on the 'peace pact with nature'. Business for Biodiversity Ireland, which was founded in 2022, is utilising the drive and innovation of Irish companies to accelerate the shift to a nature-positive Irish economy[18].
Healthy ecosystems "can supply 37% of the mitigation needed to minimize global temperature rise," according to the UN, making a clear business case for businesses and financial institutions to support "nature-positive" as a global goal for nature, in parallel to the "net-zero" goal for climate[19].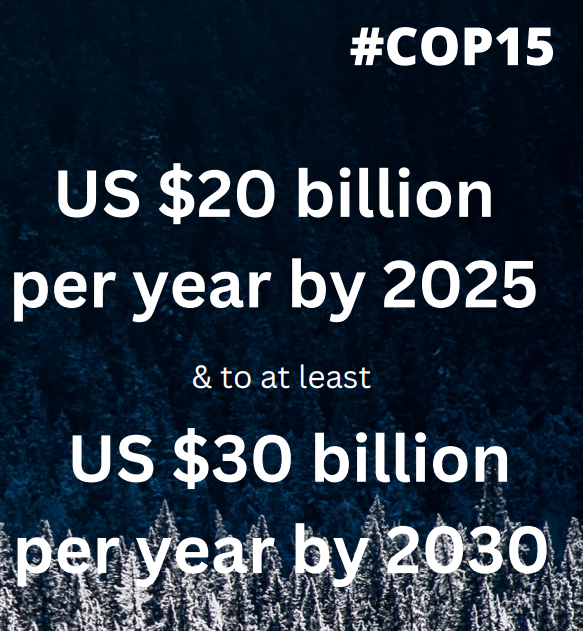 Sources: