Back to Market and Insights
Davy advises C&C Group on their £151m Rights Issue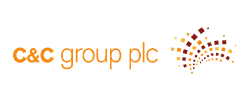 Davy acted as Joint Global Co-Ordinator, Joint Bookrunner and Joint Sponsor on the £151m fully underwritten Rights Issue by C&C Group Plc ("C&C" or the "Company") launched in May 2021 and completed in June 2021.
Company Overview
C&C is a leading, vertically integrated premium drinks company which manufactures, markets and distributes branded beer, cider, wine, spirits, and soft drinks across the UK and Ireland. Through its ownership of Matthew Clark and Bibendum, acquired in April 2018, the Company is the number one independent "final-mile" drinks distributor to the UK and Irish hospitality sectors.
Company overview & background to the transaction
The transaction was a structured as a fully-underwritten 6 for 23 Rights Issue of 81,287,315 New Ordinary Shares on a pre-emptive basis (26% of issued share capital), raising gross proceeds for C&C of £151m. The New Ordinary Shares were priced at 186 pence per share, reflecting a 33.6% discount to the theoretical ex-rights price ("TERP").
The net proceeds of the Rights Issue will be used to reduce the Company's leverage and provide sufficient liquidity to manage near-term trading uncertainty whilst ensuring that it is in a position to execute its long-term strategy by further strengthening its brands and optimising its distribution system as the hospitality sector emerges from the COVID-19 pandemic.
The C&C transaction was the first Rights Issue successfully executed following migration of Irish securities to Euroclear settlement platform in March 2021. Furthermore, it was the first Irish ECM transaction to navigate a dual prospectus approval process with both the FCA (UK Prospectus Regulations) and CBI (EU Prospectus Regulations) post the end of the Brexit transition period on 1 January 2021.
Background to the Transaction
Since the emergence of COVID-19, the Company had moved quickly to take decisive action, focusing on factors within its control with the aim of navigating the significant uncertainties caused by the pandemic, while also positioning the business as well as possible for a future normalisation of the hospitality sector.
The Rights Issue was a key part of the Company's strategic plans and positioned C&C to emerge from the pandemic in a position of strength. It will enable them to deliver on its ambition to be the preeminent brand-led number one independent "final-mile" drinks distributor across its core markets and generate long-term sustainable value for shareholders.
Davy Value Add
Davy is proud to have served as Corporate Broker to C&C since its IPO in 2004 and Davy's in-depth knowledge of the shareholder base facilitated meaningful engagement with, and informed feedback from, key investors throughout the transaction. Davy also provided Joint Sponsor services to C&C and supported the Company in successfully steering the transaction through a new dual regulatory environment with both the FCA and CBI.