Back to Market and Insights
2019 Outlook: Growing, but slowing
Global growth in 2019 is projected to continue its 2018 level of 3.7%. This healthy pace will maintain a sustainable economic backdrop and there are few signs of overheating or need for a recession to clear excesses. That said, the market has been adjusting to the reality that we have witnessed the best days of economic and corporate earnings growth and global growth has become less balanced.
Synchronised global growth plateaued in mid-2018 and we have moved to divergent economic growth across regions and asset classes. Tighter financial conditions combined with increased political and economic uncertainty will continue to dampen corporate and consumer confidence. As the US fiscal sugar rush fades, we move toward a harmonised, albeit a modest deceleration.
For the past several years, investors have been rewarded for investing in most assets as the exceptional liquidity supplied by central banks and lower long-term rates boosted valuations. At this stage in the economic cycle—especially as the US Federal Reserve is increasing rates and reducing the size of its balance sheet— valuations seem to have peaked. We now see increased disparity in returns across sectors, geographic regions and factor styles.
Overall, we are neutral in our view of risk assets. As we are late in the cycle with high valuations, global interest rates rising and a potential recession in the medium term, we believe a neutral stance is warranted. The expansion may still have room to run, but there is ample reason to be highly selective and focus on quality.
We are more positive on equities relative to other assets and expect them to do most of the heavy lifting in our portfolios. There are many determinants of stock performance – corporate earnings, interest rates and fiscal policy. However, our position in the economic cycle plays an important role in determining equity returns. Some sectors, including financials and industrials, usually display strong performance early in the economic cycle in tandem with accelerating economic growth. Other sectors, such as consumer staples, utilities and healthcare, tend to perform better late in the cycle when economic growth is slowing or weaker.
Some of these themes have already started to play out. We have therefore reduced our exposure to the consumer discretionary and interest rate sensitive bond proxy stocks and placed a premium on quality in the portfolio. We may still have some way to go in the current economic cycle, but considering the uncertainties across many markets, reducing volatility and focusing on quality will provide a better investment outcome over the coming year.
We still consider the US a positive source of returns and given the corrections during 2018, we think US equity valuations are close to attractive levels. Therefore, any additional reduction in the markets is an opportunity to buy. European equities also present an opportunity, particularly if growth in the region stabilises in 2019. Although emerging market equities have higher long-term growth rates which may offer an opportunity, we would prefer a more attractive entry point and for the strong US dollar to abate.
We are almost 10 years into the current expansion, the second longest economic expansion on record. The question most clients are asking is when will the 9-year bull market in stocks end?
In fact, there have been two cyclical bear markets in the MSCI All Country World Index since the 2008 financial crisis, during the Europe/Japan recession of 2011/12 when the MSCI ACWI fell 26.3% and during the global recession scare in early 2016 when the MSCI ACWI fell 20.8%.
Figure 1: Davy Economic Cycle Indicator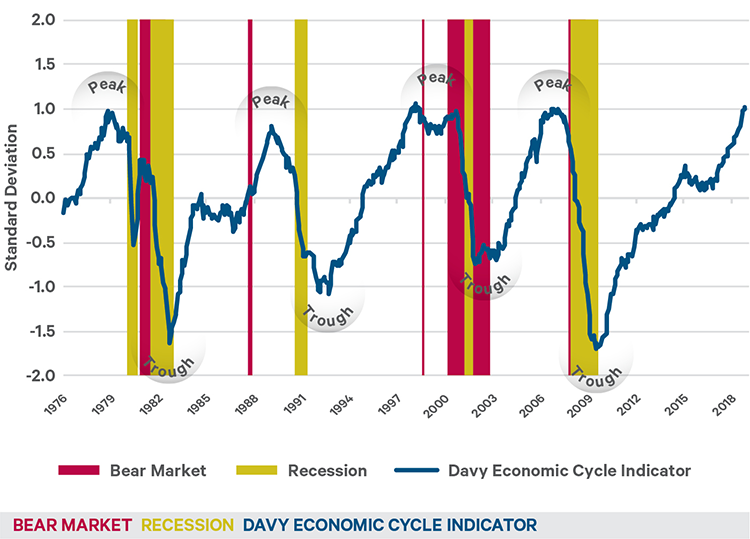 Source: Bloomberg, Davy. 18th December 2018.
We are cognisant of the fact that after a decade of stock markets vastly outperforming economic growth, and central banks printing unprecedented amounts of money in support of financial assets, investors will have to adjust their return expectations in the years to come.
United States
The growth of the US economy is forecast to slow from 2.9% to 2.5%. Job growth is expected to continue, and the unemployment rate is forecast to remain low. The US Federal Reserve (Fed) projects the unemployment rate to tighten to 3.5% in 2019 from its current level of 3.7%. While some economists fear a tight labour market will cause a severe bout of inflation necessitating further interest rate hikes, we are optimistic that any inflationary pressures will not be significant enough to change the Fed's current path of rate hikes. Given widening credit spreads and uncertainty about the eff ect of higher rates on the US housing market, we expect the Fed to adopt a more flexible stance on interest rates.
The mid-term elections allowed the Democrats to regain control of the House of Representatives, breaking the Republicans control of government. This will likely result in political gridlock and eff ectively prevent any major legislative initiatives going forward.
Europe
After surprisingly good growth in 2017, which helped reduce unemployment to 9%, the Eurozone experienced a material weakening of leading economic indicators. Growth is forecast to slow from 2.1% to 1.9%, but the range of forecasts is quite wide. Structural reform since the financial crisis has been limited to a handful of countries, and there is a growing divergence within Europe, especially in Italy.
Figure 2: Performance across regions
Cross-asset and regional perfomances(price returns n local currency for 2018)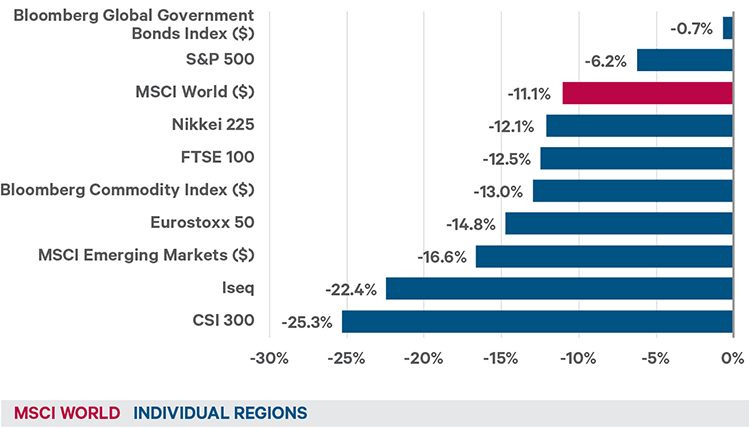 There are several significant political risks facing Europe in 2019. These include Brexit concerns, while Italy remains at odds with other EU members on the need to loosen the purse strings after several years of government austerity. In France President Macron is finding it harder to consolidate his domestic position. German Chancellor Angela Merkel is handing over control of the Christian Democratic Union (CDU), and the European Central Bank's leadership is about to change as Europe enters the long and diff icult journey of normalising monetary policy. The markets will also focus on the EU Parliamentary elections in May where anti-establishment and populist groups look set to mount a joint eff ort to gain a larger voice.
UK
The UK outlook continues to be held to ransom by Brexit. Uncertainty has taken its toll on the UK economy, particularly business investment. Sluggish wage gain and slowing house price appreciation have hindered consumption, despite a tight labour market where the unemployment rate continues to hover near a multi-decade low of 4%. Forecasts project decent real GDP growth of 1.5%, this is up from 1.4% based on an expectation that there will be progress on Brexit and that a hard Brexit will be avoided. This should help domestic demand recover over the year. Currency induced inflation should ease reducing price pressure and helping to offset weak wage growth. Against this background we expect the Bank of England (BoE) to raise rates twice over the next year.
China
China's GDP is expected to increase 6.2%, this is reflective of uncertainty from the trade conflict with the US and policies which aim to solve the conflicting goals of growth and employment, financial stability and deleveraging. Much of the previous efforts to deleverage are already being reversed as the government has started to spend in an attempt to boost growth and jobs.
China's elevated debt-to-GDP ratio provides considerably less scope for aggressive debt fuelled stimulus. The longer the trade war continues, the more likely that Chinese leaders turn to other options, such as devaluing the currency, which will only further fuel the conflict with the US. China has clearly emerged as an important player in the global economy, and as such, it will need to evolve its policies and relations with the rest of the world from one of aggressive emerging producer, to a more mature and stable economic and political partner.
WARNING: Forecasts are not a reliable indicator of future results.

WARNING: Past performance is not a reliable guide to future performance. The value of your investment may go down as well as up. These products may be affected by changes in currency exchange rates.
Global Outlook

How will the economy perform in 2019?

Global growth in 2019 is projected to continue its 2018 level of 3.7%. This healthy pace will maintain a sustainable economic backdrop and there are few signs of overheating or need for a recession to clear excesses. That said, the market has been adjusting to the reality that we have witnessed the best days of economic and corporate earnings growth and global growth has become less balanced.
Other articles you may like