Back to Market and Insights
Time to take stock! How to ensure your share awards pay dividends.
For many senior executives, receiving share awards as part of their remuneration package is a tangible sign that their hard work – often with a multinational or publicly traded company – is appreciated. You have contributed handsomely to the firm's performance, and you are reaping the rewards.
For employers too, awarding free or discounted shares is an attractive way of remunerating their executives. Share-based payments offer potential for tax savings; help to attract and retain talent; and even mitigate potential discord as both employees and shareholders participate in value increases. Benefits on both sides: what's not to like?
Like so much else in life, it's all about getting the balance right. There are risks attached to an over-concentration in company stock – or any asset class for that matter – and as those shares accumulate, it's vitally important that diversification is part of your plan.
Before we get into any analysis, let's quickly look at the most common types of share award schemes offered by Irish-based companies. These schemes come in many forms and can be classified as either approved or unapproved by Revenue, with significant differences between the two in terms of taxation.

Approved share schemes
Any shares awarded, or options granted, under approved schemes are exempt from Income Tax (IT) but liable for Universal Social Charge (USC) and Pay Related Social Insurance (PRSI).
Within this category, there are two types: Approved Profit-Sharing Schemes (APSS) and Save As You Earn (SAYE) schemes. These types of share schemes each have specific conditions and a qualified financial adviser can easily guide you through the benefits and considerations, depending on your individual circumstances.

Unapproved shares schemes
For unapproved share schemes, employees are liable for IT, USC and PRSI on shares or options granted. In addition, Capital Gains Tax (CGT) may also be due when employees dispose of their shares.
These schemes come in many different forms including where an employer awards an employee free or discounted shares, restricted or forfeitable shares, convertible securities, unapproved share options or, most commonly, restricted stock units (RSUs) and employee share purchase plans (ESPPs). In general, IT, USC and PRSI will be due on the nominal value of the award or discount although some relief can apply where the shares are restricted, with the amount of deduction depending on the length of restriction.
Share-based payments have been a popular and successful form of corporate remuneration since the 1960s, when the IDA's prolific foreign direct investment (FDI) policy began to bring US corporations to Ireland. Many of these companies brought their share schemes with them, and they remain a big part of the package – on both sides of the table.
For employers, such payments incentivise and reward performance while helping to maintain a close, loyal relationship with one's employer. For the latter, share award schemes offer significant tax benefits (depending on the individual scheme and its structure) compared with standard salaried earnings, and foster an environment where everyone feels like they are contributing to the overall value of the company.
Reasons to be cautious
The benefits are clear – but there are reasons to be cautious too. Having accumulated wealth through a single stock over a long period of time, many senior executives simply hold onto what they have, counting on a big pay-off in the hope or assumption that the value of their stock will keep rising ad infinitum.
Whether through apathy, lack of strategy, or both, this is a risky business. Whatever the circumstances, a concentrated position leads to a disproportionate allocation of wealth, where the employee ends up with an outsized investment in a single company. You know what they say about putting all your eggs in one basket.
Awareness and good advice are key. Working with an experienced financial planner will enable you to develop a goals-based investment plan based on your individual circumstances – a full, holistic picture – while helping you to navigate complex issues and ultimately giving you peace of mind.

The information in this article does not purport to be financial advice and does not take into account the investment objectives, knowledge and experience or financial situation of any particular person. You should seek advice in the context of your own personal circumstances prior to making any financial or investment decision from your own adviser. This information is based on Davy's understanding of tax legislation in Ireland and is subject to change without notice. Please note that Davy does not provide tax or legal advice, nor accept liability for it. You should consult your tax adviser for the rules that apply in your own individual circumstances.
Let's start the conversation.
Here at Davy, we specialise in goals-based financial planning and have been working for many years with clients who want to create structured, yet flexible, and meaningful plans. If you are the beneficiary of a share-based awards scheme, we'd be happy to talk to you about a financial plan that fits your future. It's a conversation you are not likely to regret.
To find out more about how we can help you, please contact me.
Keith Sciascia
Associate Director,
Private Clients
+353 1 614 8708
keith.sciascia@davy.ie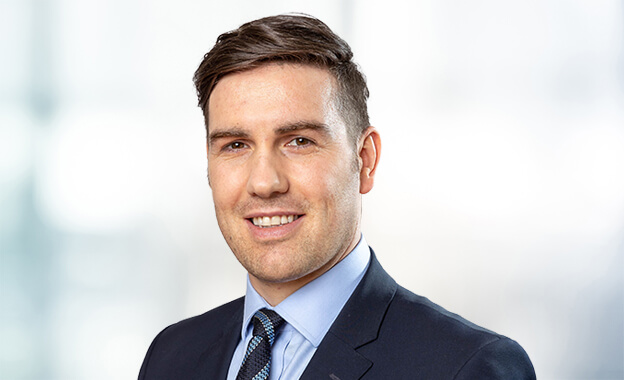 Login to myDavy, the easy way to view your Davy account online
It all begins with a simple, no obligation conversation. Call 01 6148778 or
Comfortable making your own investment decisions without investment advice.