Back to Market and Insights
Housing: The past, the present, the future
The recent property crash In Ireland is unprecedented in living memory. Despite the fact that we live in one of the most sparsely populated countries in Western Europe, we somehow managed to create a property bubble of truly epic proportions. The rest as they say is history.
However, pick up a newspaper today, seven years on from when prices started to collapse, and you are likely to see a headline about the property recovery. Indeed, the housing market is growing so fast that in just over a year, the national topic of conversation has gone from non-stop discussions about ghost estates and negative equity, to concerns about young couples getting on the property ladder and fears of another bubble.
An uneven recovery
In the past 12 months, house prices are up over 13% on average across the country. However, this figure masks the reality that the majority of gains have been driven by the Dublin market. Prices in the capital have risen over 23% in the past year, while the rest of the country is up just under 5%.
Indeed, there is increasingly a growing gap between Dublin and the rest of the country. For example, the average 3-bed semi-detached house in South County Dublin, according to Daft.ie, costs as much as €441,000. This compares to the average 3-bed semi-detached in Cork costing €150,000, Galway at €139,000 and Limerick at €108,000 – less than 25% of a South County Dublin equivalent. However, even within Dublin it is not a uniform picture. The same 3-bed semi in North County Dublin costs €242,000, so it seems that talk of any potential bubble is isolated only to very specific parts of the Dublin market.
Dublin's recovery is faster than that in London and New York
This is not that unusual. Larger cities tend to emerge first from a downturn as they are usually the main hub of job creation which attracts a younger, higher-earning workforce and, as a result, demand for housing tends to be greater than the rest of the country.
As Figure 1 shows, comparing the experience in Dublin, where prices started rising in the second quarter of 2012, to the recoveries in London and New York, which began in 2009 and 2012 respectively, we can see a similar picture emerge. Until the first quarter of 2014, Dublin's recovery was matching that of both London and New York, rising approximately 20%. However, in the last six months, we have seen a rapid acceleration, and the recovery in Dublin is now up 29%, running at a faster pace than those in both London and New York.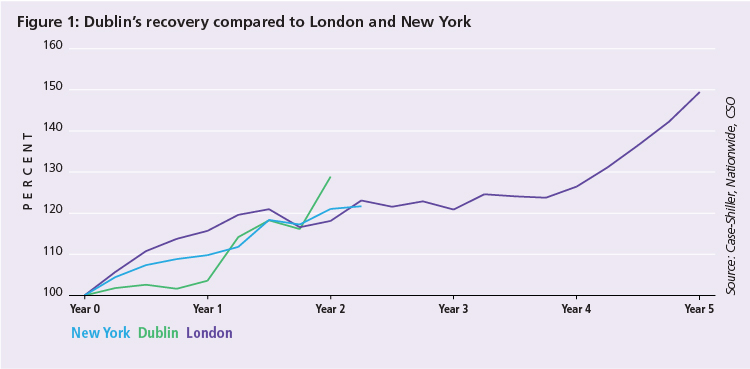 How affordable is housing?
Given the rapid recovery in house prices, understandably there is growing concern that we are at risk of entering another housing bubble.
A bubble is generally defined as a development in prices that cannot be explained by fundamental factors used to value the assets in question, and it appears that property is particularly prone to either overshoot or undershoot its equilibrium fair value. To assess whether house prices are becoming overvalued again, we think it is absolutely critical that we have a better understanding of housing affordability to ensure the same mistakes are not made again.
Valuation metrics are the norm in other asset markets, such as the price-to-earnings ratio in equity markets, and there are equivalent measures used for property in other countries. For example, in the UK the largest mortgage providers, such as Halifax and Nationwide, regularly produce updates on housing affordability relative to income levels.
Davy house price-to-income ratio
To get a picture of just how affordable housing is, we have constructed a house price-to-income ratio for the Irish property market that is comparable to the measures used in the UK by the large mortgage lenders, Halifax and Nationwide.
Figure 2 illustrates that, using this approach, Irish house prices are more affordable than they were at the peak when they reached a high of 9 times the average income. However, today at just over 5 times the average income, they are not exactly cheap. If anything, they already look slightly expensive when compared to the situation in the UK which currently has an average price of 4.9 times. Indeed at this level, the Bank of England ('BoE') is concerned that prices are getting ahead of themselves and has already signalled that it will intervene to cool the housing.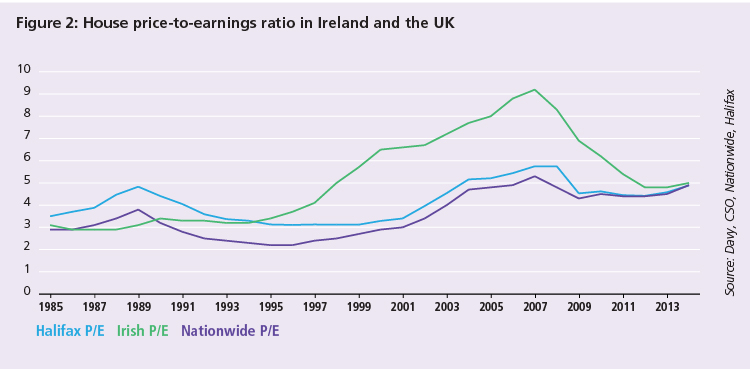 The risk of higher interest rates
Another concern we have in relation to affordability is that first time buyers may be extrapolating today's historically low mortgage interest rates into the future. With the average mortgage interest somewhere between 4 and 5%, homebuyers are benefitting from some of the lowest mortgage rates available in the last 40 years. As anyone who bought a house in the '70s, '80s or '90s will attest to, mortgage rates have been a lot higher than they are today.
Given the anaemic growth prospects for the Eurozone, it is true that mortgage holders look set to enjoy relatively low mortgage interest rates for the next few years, but it seems inevitable that over the course of a 25-35 year mortgage, interest repayments will rise, and again we could be storing up problems for the future.
What can be done to stop a potential bubble?
The most immediate issue is that very few houses have been built in recent years, and with one of the youngest populations in Western Europe, demand is likely to remain strong in the future. Unfortunately, it will take a number of years to increase supply sufficiently, and until that happens, the shortage of housing may continue to put upward pressure on prices and there is a risk they get pushed to unsustainable levels again.
It is therefore critical that the Government implements a coherent construction and planning strategy to ensure an adequate amount of supply is brought to market. We estimate that the long run natural rate of demand for new dwellings is somewhere in the region of 25,000 units per annum, with up to 60% required for the Dublin region.
Of course one of the main causes of the boom and the subsequent bust was a lack of bank regulation and very lax lending policies. With supply still one to two years away, we think it is critically important that the Central Bank acts to ensure banks don't lend too aggressively again.
Some of the restrictions they could put on bank lending in order to cool house prices would be to set mortgage loan-to-value limits ('LTVs') at 80%, and limit mortgage borrowings to 3-4 times combined income. This, in our view, would help ensure a more stable future and take some of the current froth out of the market.
Warning: Past performance is not a reliable guide to future performance. The value of investments and of any income derived from them may go down as well as up. You may not get back all of your original investment. Returns on investments may increase or decrease as a result of currency fluctuations.
Other articles you may like