DAVY HORIZONS ESG PEER NETWORK
Decarbonisation and Responsible Sourcing in Value Chains
28th June
Dublin
Decarbonisation and Responsible Sourcing in Value Chains
Companies can no longer ignore the impact of their activities on people and planet across all tiers of their supply chain. Corporations have growing legal and stakeholder demands to manage sustainability risks and opportunities not only in their operations, but in their value chain as well. The incoming Corporate Sustainability Due Diligence Directive (CSDDD) will mandate this. In terms of improving sustainability performance, the value chain is where the majority of a company's carbon footprint typically occurs and it is often where the highest risk of exploitative labour practices lies. Engagement with suppliers can reduce these risks and unlock new business opportunities. Davy Horizons were recently joined by James Chamberlayne, Catriona Nicholson and Eric Mieras to provide key insights on their experiences of value chain decarbonisation and responsible sourcing.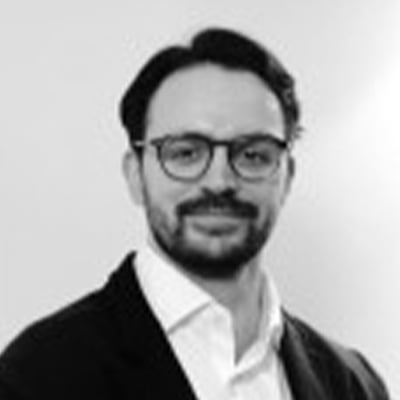 Speaker: James Chamberlayne, Director Sustainable Finance Program, Capital Markets, CDP
James is the Director of CDP's Sustainable Finance Program, Capital Markets, which facilitates engagement, disclosure and data insights through customized signposting and roadmap solutions that is tailored specifically to serve the needs of banks, institutions and companies. Prior to this he led the UK & Worldwide Supply Chain team at CDP working with large multinationals in their efforts to build nature-positive supply chains. Before CDP, James worked in India, as Head of Sustainability for a company in the agriculture sector and has a background in International and sustainable development.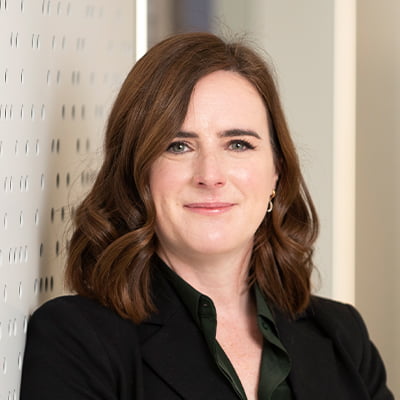 Speaker: Catriona Nicholson, Head of Investor Relations, Kingspan Global
Catriona joined Kingspan to set up the internal Investor Relations function in 2017. During her time at Kingspan, Catriona has worked closely with the leadership team and the sustainability team on Kingspan's market leading sustainability strategy and is leading the core CSRD readiness team at Kingspan. As a manufacturer of products which improve the energy efficiency of the built environment, Kingspan has been recognised as a leader in the field. Prior to joining Kingspan, Catriona worked in capital markets, most latterly as a Senior Equity Salesperson.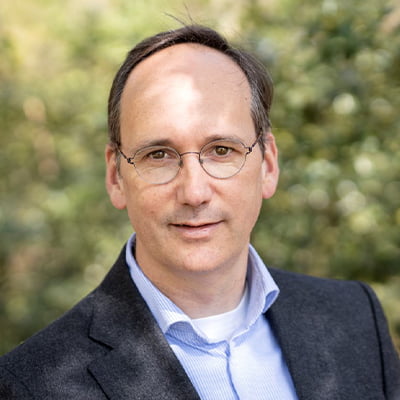 Speaker: Eric Mieras, MD, PRé Sustainability LCA, Carbon Footprint data & tools
Eric is the Managing Director of PRé Sustainability, a global leader in life cycle assessment software, life cycle information and services. Eric is responsible for the vision and strategy of the company. His focus is on scaling the availability of footprint information to new audiences in an easy way without compromising on transparency quality and trustworthiness. To accelerate the access to footprint data he wants to bring digital and sustainable transformation together. As collaboration is in his – and PRé's - DNA he wants to do that together with clients and partners to create an ecosystem that drives fact-based sustainable change.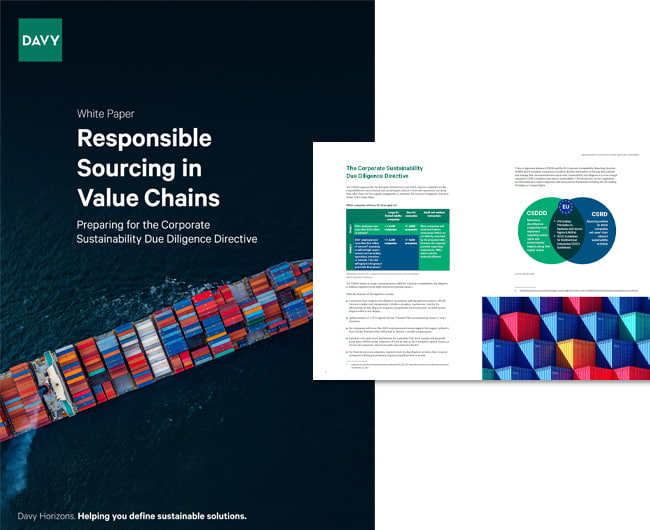 Responsible Sourcing in Value Chains Whitepaper
Find out about preparing for the incoming CSDDD, how responsible sourcing can be integrated into business and see case study and best practice examples of this in action.
Horizons Event Video
Decarbonisation and Responsible Sourcing in Value Chains
Watch our expert panel discussion hosted by Dr Dorothy Maxwell and Ellie Walshe of Davy Horizons to explore sustainability in the value chain. In this lively discussion they cover Scope 3 measurement, tools & data, supplier engagement, responsible sourcing and CSDDD.
We're ready to help you plan for a sustainable future
To find out more about our sustainability services
Please note that the provision of this product or service does not require licensing, authorisation, or registration with the Central Bank of Ireland and, as a result, it is not covered by the Central Bank of Ireland's requirements designed to protect consumers or by a statutory compensation scheme.