Sponsorship at Davy
At Davy, our purpose is to deliver world-class outcomes. We aim to be the financial service partner most trusted by our clients and most admired for our people. One of the ways we achieve this is by developing strong relationships with our clients and understanding the things that matter to them. We continuously strive to achieve for the Davy brand in a way that sets new standards for our marketing activities. We have built a brand we are immensely proud of.
Commercial sponsorship plays a pivotal role in the Davy communications programme. By aligning ourselves with individuals and organisations who we greatly admire through our sponsorships, we're able to connect with our clients, with Irish businesses and the communities in which we operate. For us, it's not just business. It's personal.
Leona Maguire
Since 2019, we have been proud sponsors of Leona Maguire. Up until the end of 2019, we were also sponsoring Leona's sister Lisa Maguire, but Lisa decided to retire from professional golf and move into management.
Leona entered the professional game in 2018 off the back of a great amateur career while at Duke University. As an amateur, she was nothing short of sensational. A three-time Curtis Cup player with GB&I, Leona represented Ireland at the 2016 Rio Olympics and a year later, she captured the Ladies British Amateur Championship title. Leona was also atop the world amateur golf ranking for an incredible 135 weeks, which is the longest combined total at number one in women's history. This year Leona qualified for LPGA Tour promotion and in just her second event on the most elite Tour in all of women's golf, she recorded a top-5 finish at the ISPS Handa Vic Open in Australia.
This partnership sees Leona wear the Davy logo on her competition clothing, while we will also provide her with financial planning and consultation as she continues her fledgling career.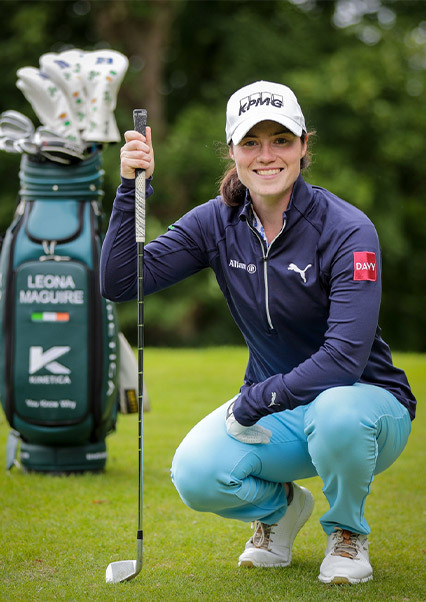 Ronan Mullarney
In a new sponsorship deal this year, we announced our support of 24-year old Irish golfer, Ronan Mullarney, which has seen the Galway native become an ambassador for the Davy brand. Ronan turned professional in December, having enjoyed a stellar amateur career which culminated in him winning the Irish Amateur Close in 2019.
We will play a key supporting role by providing him with financial planning and consultation services that will help him continue to make important strides in his professional career, while focusing on fulfilling his personal ambitions. The new partnership will also see Ronan wear the Davy logo on his competition clothing, joining fellow Irish golfers Leona Maguire and Paul Dunne in representing the Davy brand on courses across the globe.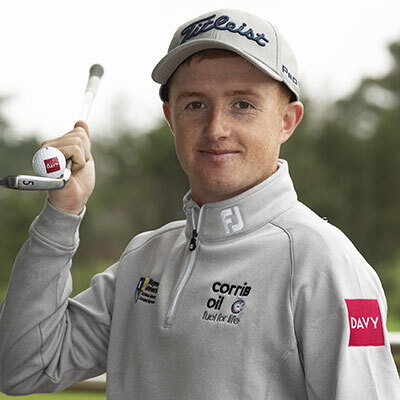 National Yacht Club, Dun Laoghaire, Dublin
We are delighted to be a corporate partner of the National Yacht Club, Dun Laoghaire. The National Yacht Club was founded in 1870 and has over 1,000 members. It is a vibrant hub of family sailing with its members competing at the highest levels of international sailing competition.
Former International and Irish and British Lions rugby player, Paul Wallace was on hand as we announced our sponsorship of The National Yacht Club Regatta that took place in Dun Laoghaire in June 2018. Our sponsorship of the Regatta kick started our partnership which now sees us sponsor the Junior Regatta every year and the Senior Regatta every second year.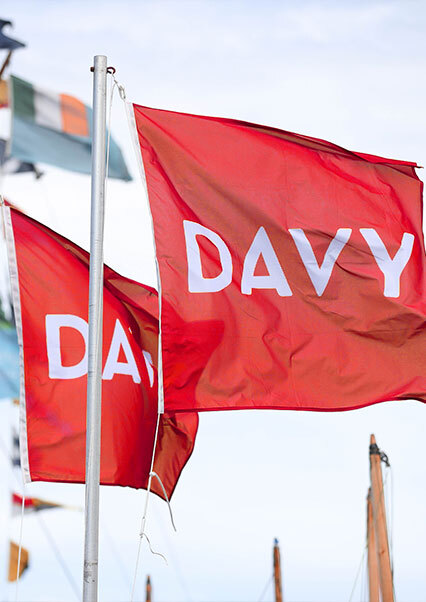 100k in 30 days
We were delighted to be the title sponsors for the 100K in 30 days challenge that took place from the 1st - 30th June 2020 in aid of Breast Cancer Ireland. This challenge started off as a community-based event & has been going for the last four years with people taking part from all over the world, just for fun. In 2020, they wanted to go bigger, national and better than ever. They definitely achieved this by raising over €1.2 million with over 14,500 taking part from over 34 countries around the world.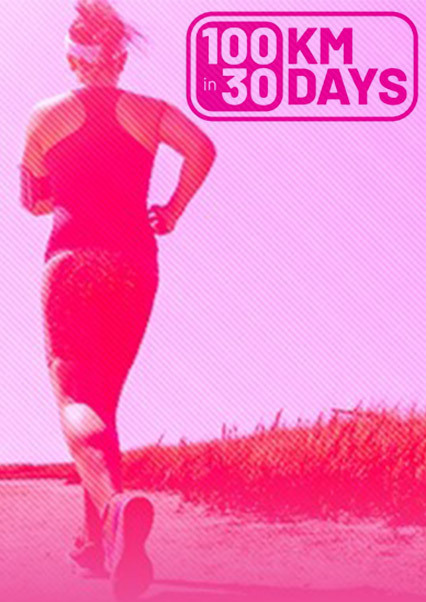 Innovation Partner @ National Concert Hall
In April 2019, we announced a new three-year partnership with the National Concert Hall (NCH) which shaped our place as the 'Innovation Partner' to the venue and primary sponsor of the NCH's Contemporary Music programme, the 'Perspectives Series.' The partnership is the first of its kind for the National Concert Hall and will see us directly support the presentation and growth of contemporary music at Ireland's National Cultural Institution for Music.
The National Concert Hall welcomes over 330,000 patrons to 1,000 events annually across three core strands of music programming – Classical, Contemporary and Family. At the heart of its Contemporary Music Programme is the Perspectives Series, which showcases some of Ireland's and the World's most creative and innovative performers. As Innovation Partner to the National Concert Hall and primary sponsor of the Perspectives Series, we will play a supporting role in delivering cutting-edge live music experiences, featuring new and inventive ideas.
Davy CEO, Brian McKiernan said: "As an Irish company, Davy is extremely proud to support Ireland's home of music, the National Concert Hall, as Innovation Partner and sponsor of the Perspectives Series."
"The National Concert Hall presents innovative music and artists of today, while giving the creators of tomorrow a world class platform to engage audiences and share their craft. Davy shares in that purpose as we support our clients in their endeavours to achieve world class outcomes, in business and in life."
"This exciting new partnership is a perfect fit for Davy and we look forward to collaborating with our colleagues at the NCH, to bring world class experiences to our clients, while supporting the personal journeys of the music world's most innovative and ground-breaking artists."
CEO of the National Concert Hall, Simon Taylor added: "The National Concert Hall is delighted to welcome Davy as our Innovation Partner. As the national cultural institution for music, we work very closely with many musical and cultural organisations, and it is very exciting to begin a meaningful long-term commercial partnership with such a leader in its field."
"Davy's sponsorship of our contemporary programming including our Perspectives series means that we can continue to support new artists and bring exciting music to audiences in Ireland."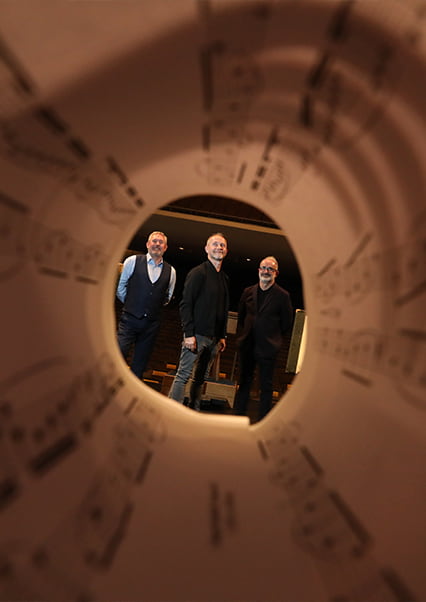 Irish Times "Inside Business" Podcast sponsorship
In April 2020, we announced a new three-year partnership with the Irish Times, which saw us sponsor the 'Inside Business' Podcast. The 'Inside Business' Podcast is hosted by Business Editor Ciarán Hancock and is dedicated to business and economics, featuring award winning journalists, analysts and industry experts. The podcast boasts an average listenership of over 6,500 plays per episode and has featured guests such as Bank of Ireland CEO Francesca McDonagh, GAA Director General Tom Ryan and developer Michael O'Flynn. Through this partnership, we will actively support the podcast to grow audience and engagement. This will be enhanced by utilising multiple platforms across The Irish Times including online and print support, social posts & e-mail driving traffic to the podcast, as well as live podcast events to engage our listeners further.
Addressing the new sponsorship, Ciarán Hancock, The Irish Times Business Editor noted, "Inside Business is a trusted voice on all of the major events in business and economics both at home and abroad. We have expanded our range of coverage in recent years, to include live broadcasts, regular Business of Sport episodes, and interviews with some of the top Irish and international business leaders. This strategic partnership with Davy Group gives The Irish Times a platform to continue to innovate with our coverage and to build out engagement with listeners. I look forward to working with Davy over the next three years to make Inside Business a must-listen podcast for those interested in top quality analysis of the latest developments in business and economics."
Commenting on the partnership, Nicky Doran, Brand and Marketing Strategy Director, Davy said, "Davy is a proud Irish business and now more than ever it is incredibly important for us to continue to partner with media and businesses. We are a client first organisation and we know that our clients' value expertise, insight and an Irish perspective on business and the economy. Partnering with The Irish Times on the 'Inside Business' Podcast is the perfect opportunity for Davy to support a trusted voice that provides quality and credible insights. Podcasting is an innovative medium that is growing in popularity. For us as a sponsor, it offers an opportunity to engage audiences interested in quality content in a relatively new and interesting way. We fully intend to be a strategic partner to The Irish Times and will work with them to continue to build the audience."
Commenting on the partnership, Eimear Moran, Head of Media Solutions with The Irish Times said, "'We look forward to working with Davy Group as sponsors of our 'Inside Business' podcast. The Irish Times has been consistently focused on enhancing our audio portfolio and we welcome a sponsor who is as committed as we are to grow this audience. We have no doubt, this will be a very successful partnership".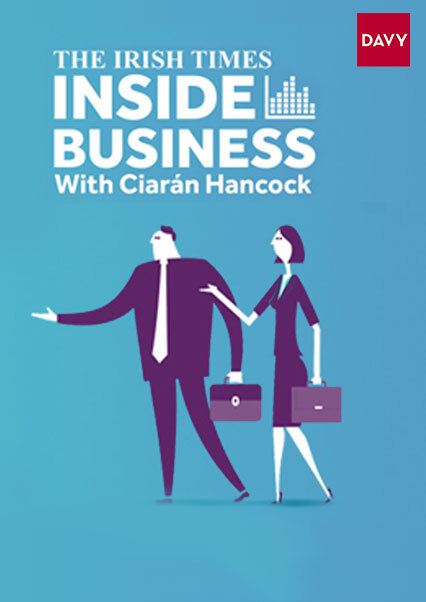 Guaranteed Irish
As a recent recipient of the Guaranteed Irish mark, we decided to sponsor the Guaranteed Irish Business Webinar Series 2020. The series is designed to facilitate business-to-business networking in an online format at a time of increased remote working. The series will feature experts from Guaranteed Irish businesses such as Davy, KPMG, Matheson and CBRE and will focus on issues of importance to Irish businesses including developing roadmaps for the return to work. Launched on a pilot basis when Covid-19 infection control measures were introduced in March this year, the series now has a weekly reach of over 13,500 listeners. Businesses can access the webinars by visiting guaranteedirish.ie. Our entry into the Guaranteed Irish group will add to the business membership organisation's ability to support the Irish economy, as we will work with GI to share relevant insights on economic analysis and financial market indicators.
Commenting, Pat Cooney, Group Head of Private Clients at Davy, said: "The research is compelling. Irish consumers value and actively support trusted Irish brands and like us. They view Guaranteed Irish as a badge of distinction and pride. Through the Davy Guaranteed Irish Business Webinar Series 2020, we want to support and learn from exceptional Irish businesses and to assist one another during this challenging period and beyond."
Commenting, Bríd O'Connell, CEO of Guaranteed Irish, said: "This new research shows the value that consumers place on businesses who display our mark and of its importance in consumer purchasing decisions. Davy's insights, shared values and deep connection with Irish businesses make them a natural fit for this and future collaborations."