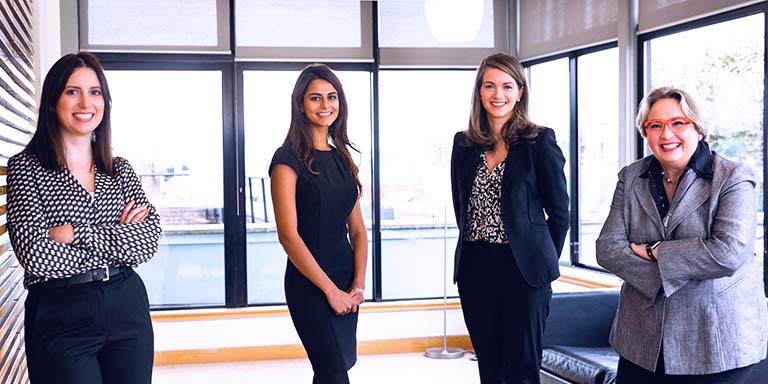 Davy announce 4 nominations in the Women in Finance Awards 2021
October 2021
Davy are delighted to announce four nominations within the Davy Group for the Women in Finance Awards 2021. Huge congratulations to Niamh Prendergast, Nargis Dewji, Chantal Brennan and Fiona Haughey on their nominations and we wish them the best of luck in the awards ceremony, which will take place on the 8th December.
The Women in Finance Awards advocates the emphasis on a more inclusive sector where professional women demonstrate success, initiative and talent in the financial world. It is an honour for Davy to be represented by four of its team at these important and recognized awards and it serves as a great achievement for each of the ladies in their careers. The nominees from Davy are represented in three different categories of the awards.
Category nominations:
Woman of the year – Chantal Brennan
The next generation leader of the year – Nargis Dewji and Fiona Haughey
Wealth manager of the year – Niamh Prendergast
Fiona Haughey comments: 'The Next Generation Leader of the Year category, as well as the other Women in Finance awards recognise that women will play a huge role in leading the future of financial services. It's fantastic to be shortlisted for this prestigious award recognising business value and innovation in my role. Working at Davy has given me the opportunity to learn so much from serving our clients while progressing in my career.'
Nargis Dewji, originally from Tanzania, has been living in Ireland for over 6 years. She won Ireland's International Student of the Year Award in 2018 during her time at NUI Galway and after obtaining her MA in Finance at Trinity College Dublin, she joined Davy's Graduate Program in 2019 and is currently serving on Davy's Financial Planning team. Nargis is a strong advocate for Diversity & Inclusion initiatives across her various communities and her contributions were recently recognised in her home country where she was awarded the Bright Minds Award in 2020. She is honoured to be shortlisted for this year's Women in Finance 'Next Generation Leader of the Year' and looks forward to continuing to empower and lift others along her career journey.
A note from Chantal Brennan: 'Delighted to have been nominated for this award! Super to be recognized for delivering consistent investment returns for our clients using state-of-the-art investment techniques. Working at Davy has enabled me to share my passion for investing with our graduates and help them build their careers as investors.'
Some words from Niamh Prendergast: I'm delighted to be nominated for Wealth Manager of the Year. The Women in Finance awards recognise the immense value women add to the financial services industry and although we are still the minority in the industry, thankfully I see this changing. I love my role, especially getting to know and working closely with clients. I find it really rewarding helping them and their families work towards their financial goals , which in turn enables them to do the things in life that matter most to them.