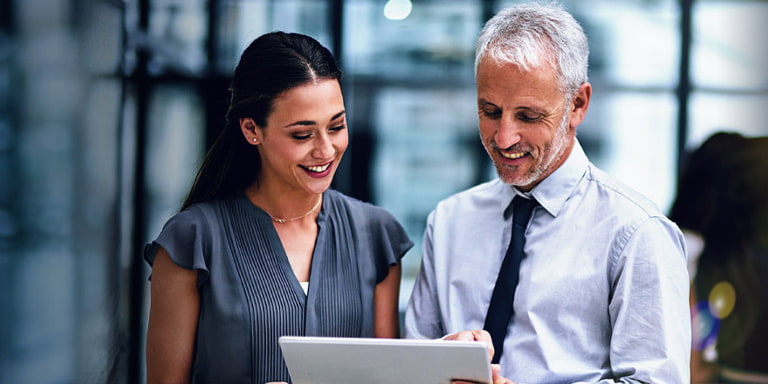 DAVY SELECT CORPORATE INVESTMENT ACCOUNT
Find a new home for your corporate investment account
Our execution-only service Davy Select is designed for corporate clients that are comfortable making their own investment decisions and managing their own portfolio.
Choose from 7,500+ shares across 30 international markets, 650+ exchange traded funds (ETFs), or 1,250+ funds, including the Davy GPS Funds (Global Portfolio Strategies).
Our web-trading account and secure client portal myDavy allows you to view and manage your investments online 24hrs a day. You will also have the option to place a transaction by calling our dedicated Davy Select execution desk from 8am to 9pm Monday to Friday, while our Dublin based Customer Service team are available Monday to Friday 8am to 5.30pm.
So whether you need help getting started or have a question about your account we are here to help.
Our corporate and personal accounts offers full transparency on fees and charges which can be found here.
Where you are applying with the assistance of your Intermediary please consult your Intermediary in relation to the account opening process and investments. They will also be able to provide all of the documentation in relation to Terms & Conditions and account opening.
Request application form
Whether you want to invest in direct equities, funds and ETFs or avail of Davy's own multi-asset fund range, our execution-only service provides you with a variety of options for your corporate investments. Why not request an application form to open an account now.
In addition to contacting you, we would also like to send you information which you may find of interest including event invitations, insights, and economic updates. If you would like us to send such information to you by email, post, SMS, phone and/or other electronic means, please complete the form below.
Negative interest rates
Deposit interest rates are at historic lows. With several banks now applying negative interest rates, cash deposits may be costing you money.
Inflation
Ireland's annual inflation rate increased in January 2022. Inflation could be eating into the real value of your balance sheet.
Do it your way
Designed for investors who are comfortable making their own investment decisions.
Frequently Asked Questions
To find out what is needed to complete a Davy Select corporate account application, please download the guide.
Our secure online portal myDavy facilitates access to your web-trading account, allowing you to view and manage your investments online 24hrs a day, or you can place a transaction by calling our dedicated Davy Select execution desk.
If you are comfortable making investment decisions on your own, without advice, opening a corporate investment account wth Davy Select provides fast, simple access to more than 7,500 equities on 30+ exchanges. You will also have access to real-time price quotes (in Irish and UK equities) and instant deal confirmation for quote orders. To find out more about share trading, click here.
Log in to myDavy and go to the Trading section. When you click on the Trading tab, the trading page is displayed where you will see MyWatchlist/Alerts, My Orders, My Holdings and Cash Account Balances. Click on the Trade Now button.
Enter the company name into the search box. Select the Fund you wish to buy. Proceed to choosing the type of order you wish to place.
To find out more about buying Funds online, click here.
Yes, these are available for you to trade online or over the phone once you open your account. Please find more information here.